About
At Melbourne University Publishing we take great pride in producing books that contribute to the conversation about Australia's political and cultural landscape. As Australia's original university press launched in 1922, MUP is excited about our future with more of Australia's best non-fiction writing to come.
Covering a broad range of genres, MUP is a leader in both news-making political and current affairs publications, and beautiful and definitive Australian art and lifestyle books. Through the Miegunyah Press imprint we publish lavishly illustrated landmark books that document the national story, and include a list of award-winning art, photography, historical and biographical titles.
We publish the best of Australian academic research and writing through our MUP Academic series. These titles are peer-reviewed and designed for readers and writers of scholarly material and specialist research.
The prestigious and editorially-independent literary journal Meanjin also falls under the MUP umbrella.
As well as new publishing, we are currently digitising our extensive backlist with iconic titles such as Manning Clark's six-volume A History of Australia and Hartung's Astronomical Objects for Southern Telescopes being sold online for the first time. This digitisation is an ongoing project and you can request titles to be brought back into print here.
Board of Directors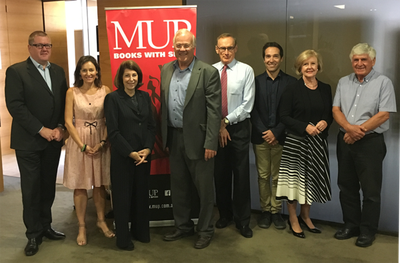 Laurie Muller (chairman), Louise Adler, Danny Gorog, Allan Tait, Tony Peake, Gillian Trigg, Bob Carr, Ian Young, Margaret Abernethy, Mr. Richard Tegoni