The nation's original university press.
"Despite maintaining its image of exception, magic and luxury, fashion is an economic, social and professional reality, emblematic of contemporary capitalism"

Giulia Mensiteri in The Most Beautiful Job in the World

"The modern story of the convent is important for heritage conservation, community activism, social entrepreneurship, land-use planning, and the social history of Melbourne."

Stuart Kells in The Convent
In the 80th birthday edition of Meanjin, writers address the theme: The Next 80 Years. Pride of Place by Alisa Bunbury is a stunningly packaged hardback exploring the rich visual and textual material in the Grimwade Collection, and providing a unique perspective on Australia's history. Islam and Muslims in Australia by Jan Ali examines the diverse ways Muslims engage with religion locally.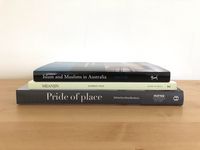 As the end of the year approaches, MUP is pleased to present four groundbreaking and engrossing new titles, as well as a new edition of Mark McKenna's award-winning biography of Manning Clark, An Eye for Eternity.