Australia's first university press.
"Divisions within the Australian sporting community reached their apex during World War I. The war, however, was not the originator of this turmoil, but rather its exacerbator."

Xavier Fowler in Not Playing the Game

"One of the main things I wanted to do in writing the book was just to reflect on what people have experienced here, to reflect on what that says about Europe – and indeed about Australia."

Zoe Holman about Where the Water Ends

"This is the story of an Australian political conspiracy. Not the kind that faked the moon landing or concealed alien life, but a secret plan designated to limit individual freedom, consolidate power and engineer social change."

Deirdre O'Connell in Harlem Nights
When this pandemic crisis ends, things will be very bad for those with weak, corrupt and incompetent governments. For those with good governments, critical moral decisions will be required: do we reinvest and rebuild positively, or do we inflict austerity to pay down the debt quickly?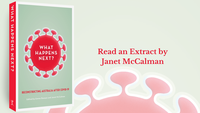 COVID-19 emerged while Australians were trying to recover from the worst bushfire season experienced in recent memory. Now, as we've begun to come to terms with the impact of this crisis, the nation's gaze has turned towards recovery. In doing so, we ask ourselves what will Australia look like on the other side?