The nation's original university press.
"Ordinary life seems far away while the symbolic life, the journey offered by the art-forest, reminds me of one of nature's greatest gifts – its ability to inspire humans, to teach us."

Janine Burke in My Forests: Travels with Trees

"One of the main things I wanted to do in writing the book was just to reflect on what people have experienced here, to reflect on what that says about Europe – and indeed about Australia."

Zoe Holman about Where the Water Ends

"The discovery itself was difficult; using helicopters and small boats in a remote part of Australia, searching for diamonds in an area where they hadn't been found before. That was the first challenge."

Stuart Kells in Argyle
Melbourne University Press (MUP) has signed the first title in a new South Asia book publishing series: Farmers' Strike, by Namita Waikar.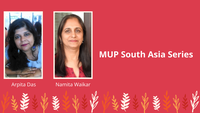 Farmers or Hunter-Gatherers? The Dark Emu Debate, by Peter Sutton and Keryn Walshe was published 16 June 2021. This book is an authoritative study of pre-colonial Australia that dismantles and reframes popular narratives of First Nations land management and food production.