The nation's original university press.
The sessions from Adelaide Writers' Week 2019 are now available in podcast form, so whether you couldn't make it or would like to hear it all again, settle in for a suite of erudite and contemplative conversations.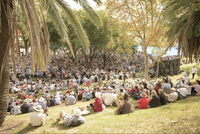 When socialist barrister and aspiring member of parliament Maurice Blackburn met Doris Hordern, ardent feminist and campaign secretary to Vida Goldstein, neither had marriage in their imagined futures. But they fell in love-with each other as much as with their individual aspirations to change the world for the better.