The nation's original university press.
"The economic success of Asia and the educational success of key Asian countries have piqued public interest in high-achieving Asian-background students in Australian schools. Admirers see the children of Asian migrants as perfect students: aspirational, studious and compliant."

Christina Ho in Aspiration and Anxiety

"The modern story of the convent is important for heritage conservation, community activism, social entrepreneurship, land-use planning, and the social history of Melbourne."

Stuart Kells in The Convent
Mark Moran talks about fieldwork, travelling in dinghies and the chaos of writing.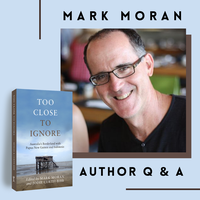 A Networked Community: Jewish Melbourne in the Nineteenth Century by Sue Silberberg explores the cultural diversity the made up colonial Melbourne. It gives a new slant to Melbourne's development and connects Melbourne Jewry into wider historical themes and experiences such as space and place, urbanisation, imperial networks and diaspora. We spoke with Sue about what she's currently reading, why she wrote A Networked Community and the message she would like to leave with readers.