The nation's original university press.
"Ordinary life seems far away while the symbolic life, the journey offered by the art-forest, reminds me of one of nature's greatest gifts – its ability to inspire humans, to teach us."

Janine Burke in My Forests: Travels with Trees

"One of the main things I wanted to do in writing the book was just to reflect on what people have experienced here, to reflect on what that says about Europe – and indeed about Australia."

Zoe Holman about Where the Water Ends

"The discovery itself was difficult; using helicopters and small boats in a remote part of Australia, searching for diamonds in an area where they hadn't been found before. That was the first challenge."

Stuart Kells in Argyle
Sydney Writers' Festival has returned to Carriageworks for 2021 and we are very pleased to have three Melbourne University Publishing authors showcasing their expertise and literary talents this week.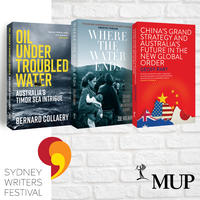 Where the Water Ends: Seeking Refuge in Fortress Europe, an expansive account of the refugee crisis and the people at its heart, was published 2 March. Zoe Holman's unflinching gaze in Where the Water Ends lights up the dark side of immigration policy in Europe by tracing the stories of immigrants and their treatment at the hands of Greek and European Union authorities.