The nation's original university press.
"Intercepting someone else's private communications or breaking into their computer hard drive is a criminal offence, except when governments do it. The Australian Signals Directorate (ASD) makes no attempt to hide its enthusiasm for doing so as a member of the 'Five Eyes' group, with the most intrusive global surveillance network in history."

Brian Toohey in Secret

"The details and severity often differ but what is common about the experiences of women of colour is an unspoken assumption that we always lack a defining feature of womanhood that white women have by default."

Ruby Hamad in White Tears/Brown Scars

"We must work harder to protect the rights and freedoms of all Australians. It is time to legislate for a charter of rights to give parliament, civil society and the judiciary the legal tools to meet our human rights obligations."

Gillian Triggs in Speaking Up
The elegant and precise title says what this book does: 'The Colonial Kangaroo Hunt'. It spans the crucial period of British colonialism in Australia from Captain Cook until the late 19th century. It draws on a remarkable range of archival materials, from poems, journals, novels, scientific accounts, sketches, engravings, to paintings, both indigenous and European, and much much more.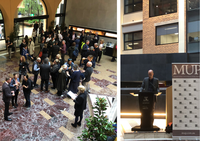 Forty-eight hours later, I was in Jordan.