Australia's first university press.
"Katharine's writing itself grabbed me with the tragic vision of Coonardoo and then the jaunty romance of The Pioneers. Beyond that, she lived the most incredible life of idealism and triumphs tempered with tragedy. Her story had only been told from her son's perspective in the 1970s and I realised there were many mysteries left to explore and sources which hadn't been tapped."

Nathan Hobby about THE RED WITCH

"I've long been interested in espionage, as revealed in fiction (eg. John le Carré), popular non-fiction (eg. Ben Macintyre) and scholarly studies. Here was an opportunity to indulge that interest! I decided to model my approach – focusing on individual stories against a Cold War backdrop – as I had used with my Red Apple: Communism and McCarthyism in Cold War New York. I hoped to transfer that approach to an Australian Cold War setting."

Phillip Deery about SPIES AND SPARROWS

"I want readers to come away with a deeper appreciation of 1970s feminists' expansive vision of social change, the vital place that children occupied in this vision, and the sheer time and energy that went into putting it into practice. I'd also like to think that the book provides an opening for further critical reflection on the way we frame children's rights today and the need for a more considered political response to children and young people's own demands on issues ranging from LGBTQIA+ rights to climate change."

Isobelle Barrett Meyering about FEMINISM AND THE MAKING OF A CHILD RIGHTS REVOLUTION
Andrew Quilty, author of August in Kabul will be appearing live at several events across Australia.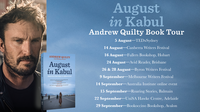 Read our Q & A with author of Masked Histories Leah Lui-Chivizhe.