The nation's original university press.
"The economic success of Asia and the educational success of key Asian countries have piqued public interest in high-achieving Asian-background students in Australian schools. Admirers see the children of Asian migrants as perfect students: aspirational, studious and compliant."

Christina Ho in Aspiration and Anxiety

"The modern story of the convent is important for heritage conservation, community activism, social entrepreneurship, land-use planning, and the social history of Melbourne."

Stuart Kells in The Convent
This month at MUP we are excited to publish two uniquely significant and timely new titles. Australia's most respected experts chart the way forward from the COVID-19 pandemic in What Happens Next?, while Australian prose poetry receives its long overdue spotlight in The Anthology of Australian Prose Poetry.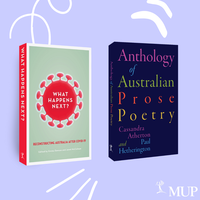 A Networked Community, The Convent and The Invention of Melbourne have all been shortlisted for the 2020 Victorian Community History Awards.