Australia's first university press.
"I should stress that my book is not meant to be about what it was like for me to work in remote communities, but rather about the people who established these communities, and their aspirations, written from the perspective of someone who was there."

David Scrimgeour about REMOTE AS EVER

"We can shed unhelpful coping habits and develop helpful ones. Thinking about and talking about coping helps us to achieve the best outcomes. It's about working towards our personal best and building up the best coping skills. It is a ride we can enjoy."

Erica Frydenberg about COPING IN GOOD TIMES AND BAD

"Gradually a chill spread across the cultural landscape after Malcolm Fraser came to power in 1975. But there were radical issues, and great energy in the women's movement, which got into their stride in the late 1970s. This was reflected in the pages of Meanjin—it was important to take the magazine to the sources of energy."

Jim Davidson about EMPERORS IN LILLIPUT
Melbourne University Publishing (MUP) is pleased to announce the appointment of Foong Ling Kong as its new Publisher.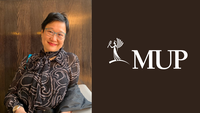 "An exceptional work of historical scholarship by an exciting new voice in history-making (and unmaking)."