The nation's original university press.
MUP is delighted to be publishing Accidental Feminists by award-winning writer and journalist, Jane Caro. In her new book Caro draws our attention to the unnoticed revolution led by women over 50.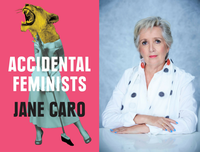 "Jim taught me one of the toughest and best lessons...to put my notebook down, and to listen, and look at the country and culture. He said to stop being a researcher. That was when I really began to learn." - Rebe Taylor on what we can learn from Aboriginal Tasmania.