A message about Cardinal: The Rise and Fall of George Pell
The explosive new book from ABC journalist Louise Milligan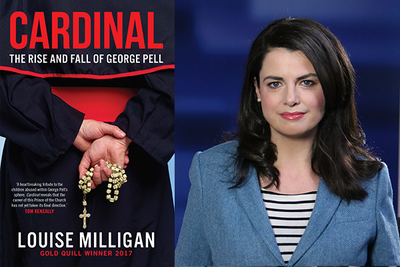 Louise Milligan's Cardinal: The Rise and Fall of George Pell comes after more than two years of covering the Royal Commission into Institutional Responses to Child Abuse, focusing on the Catholic Church and Cardinal George Pell's role as Australia's most senior Catholic – what he knew and what he did with that information.
During that time it became apparent that Pell himself was being investigated by Victoria Police for allegations that he himself was a perpetrator of child abuse. Louise was at first extremely sceptical that such allegations could be true, but through months of investigative journalism, discovered a string of complainants whose allegations about Pell span decades: from the 1960s to the 1990s.
Her story for ABC TV's 7.30 featured the only interviews of complainants who say George Pell abused them as children. She is the only journalist who has spoken to them and their families. The story represented the first time in two decades that that program devoted its entire half hour to one story. It followed months of rigorous fact-checking, corroboration and research. It inspired at least one other complainant to come forward, first to Louise and then to Victoria Police. That man's complaint now forms part of the investigation and is told in the book.
The 7.30 story and Louise's others on George Pell and the Royal Commission won a Melbourne Press Club Quill Award for Best Coverage of an Issue or an Event. She also won the Gold Quill – the Press Club's most prestigious prize for the best story of the year. Louise was also shortlisted for a Walkley Award and a Logie Award for Most Outstanding Public Affairs Report. The book tells the heartbreaking backstory of the investigation and of the complainants. It is an unvarnished and riveting account.
But the 7.30 story was the tip of an iceberg in terms of the allegations against the Cardinal that form part of the Victoria Police investigation. The book for the first time tells the other stories of complainants whom Louise had met, but who did not feel that they could manage the exposure of a television interview. Their allegations are even more confronting and disturbing than those that have already been made public.
Those allegations date right up to the time that George Pell was Archbishop of Melbourne and in fact, had instituted the Melbourne Response: the Catholic Church's first attempt to provide some redress to the victims of child sexual abuse. The Cardinal has not, of course, been charged with any crime and is entitled to the presumption of innocence. But these allegations are shocking and, if true, tragic.
The book is far more than an examination of the allegations George Pell now faces. It also goes back to his formative years – in the seminary, as a young priest in Ballarat, as an academic, an auxiliary bishop, archbishop and now Cardinal – to show how a brilliant and charismatic young student rose to become the most prominent, not to mention divisive, member of the Catholic Church in Australia. It examines the clerical style of George Pell, and tells the inside story of some of the biggest stoushes he had inside the Catholic Church, behind closed doors. Louise has gained remarkable access to the people who bore witness. Priests who have until now remained silent have turned over documents never before made public or shown to anyone but their closest confidantes.
This book is not a biography but an examination of a man through the lens of the child abuse scandal in his Church – a scandal which was brewing when a large number of seminarians from his era would go on to become paedophile priests (including, it emerges, one who was a close friend of Pell's in the seminary), a scandal which may yet bring George Pell down.
It examines in forensic detail what the Cardinal knew about child abuse in the Church. Through researching thousands of pages of documents tendered to the Royal Commission and witness testimonies – not to mention George Pell's – and gaining the trust of victims, church officials, lawyers and other key players, it charts the unbelievable lengths lawyers and other staff representing the Church went to in attempting to protect its name. As one solicitor representing a victim crushed by the legal might of the Sydney Archdiocese, of which George Pell was then Archbishop, told Louise, it was like "BHP versus Rio Tinto".
It also explores explosive and never-before-told allegations by a range of people, including clergy, who have made private statements to the Royal Commission, which challenge George Pell's consistent public mantra that he had scant knowledge of any abuse taking place before he became Archbishop of Melbourne – when he gallantly sought to tackle the issue head-on.
These new allegations completely contradict that George Pell did not know and in fact suggest that he was an active participant in the cover-up: a fixer. People – including in one case a currently-serving Catholic priest in the Archdiocese of Melbourne who has never gone public before – have taken personal risks to put these allegations on the record. They did so because they believe that they cannot in conscience allow the truth to go untold. If they too, like the Victoria Police allegations, are true, they suggest a man who has lived his life in deep denial.Louise was born in Dublin, immigrated to Australia as a small child, and she was brought up a strict Catholic in the Archdiocese of Melbourne. For Louise, this story is very close to home – and that perspective comes through strongly and passionately in the book.
Read an extract from the book that appeared in Good Weekend – "What did Cardinal George Pell know about allegations of child sex abuse within the church?"