Alfred Felton and Flinders Lane: A Short History
The legacy behind Russell Grimwade and his little book, Flinders Lane: Recollections of Alfred Felton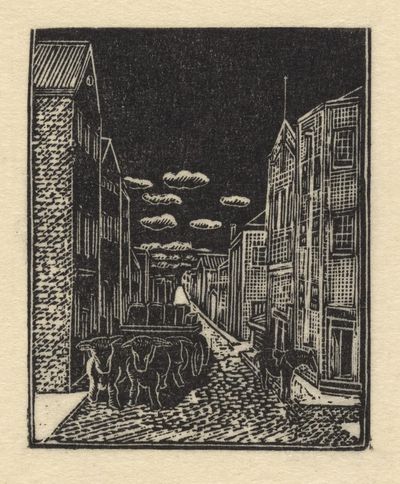 Within the National Gallery of Victoria, a keen-eyed observer would spot Alfred Felton's name on a large proportion of the gallery's 70 000 works. In fact, there are 15 000 works for which the NGV can thank Mr Felton.
Yet this mysterious benefactor is an elusive figure. Why did he bequeath so much to the NGV, and what was his connection to the influential Grimwade family? Why was his philanthropy applauded only after his death?
Flinders Lane: Recollections of Alfred Felton tells the story of this extraordinary benefactor, from arriving in Melbourne as an opportunistic youth keen to join the gold rush, to the striking image of the business titan smoking cigars in his Flinders Lane office.
Written by Russell Grimwade, this reprint has been published with the aid of the Grimwade family. In the foreword to the book, Andrew Grimwade, great nephew of the author, aptly writes, 'The time had also come for the Felton Bequest to reprint Flinders Lane as a tribute to the legacy of Alfred Felton and to Russell Grimwade.'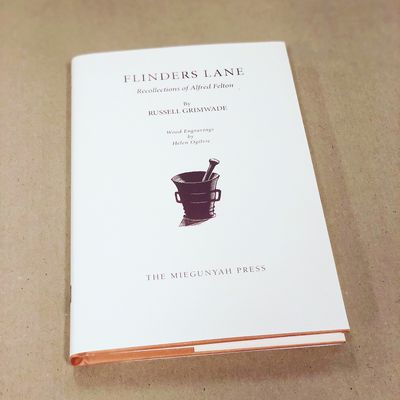 This beautiful hardback book, strewed with the illustrations of wood engravings carved by Helen Ogilvie, is a work of art. It is a testament to a man who, upon his death, contributed so generously to Australian art culture. Here are some things you should know about the book:
Who was Alfred Felton?
Alfred Felton was one of Melbourne's most successful businessmen and philanthropists. Yet, according to Andrew Grimwade – who wrote the foreword for Flinders Lane – Alfred would have had 'mixed feelings' about his recognition as a benefactor to the arts.
For while Alfred was a devoted collector of Australian art, his philanthropy became renowned only upon his death when half of his substantial wealth was bequeathed to the National Gallery of Victoria. With this money the NGV acquired over 15 000 works that are now collectively worth more than $2 billion.
Despite this late recognition, Felton had always been an admirer of NGV and the arts. Whilst living a quiet and private life, Felton amassed a private collection of Australian and international paintings, furniture and objets d'art. This is testament to his long-lived fascination with art, and when Felton died in 1904 his taste was widely recognised for its excellence.
What is the connection between Alfred and Russell Grimwade?
Felton was an excited 22-year-old desperate to join the gold rushes when he arrived in 1851, ten years before the young pharmacist Frederick Grimwade. Four years later, the pair formed a business partnership that lasted over four decades. They worked together in various fields – including pharmaceuticals, chemicals and glass manufacturing, as well as industrial gases – until Felton's death.
While the Grimwade-Felton partnership was initially business-related, it also became a friendship. Felton was unmarried and often joined the Grimwade family for Sunday lunch at their home. Despite their working and personal relationships, however, Felton and Frederick Grimwade would never lapse into an informal address, as they perpetually called each other strictly 'Grimwade' and 'Felton'. This formality extended to all except Mrs Grimwade, Russell's mother – who was Felton's only contemporary to call him by his Christian name, Alfred.
This close family dynamic meant that the youngest Grimwade, Russell, grew up considering Felton a natural extension of his family. Russell had worked with Felton at Felton Grimwade & Co. and he had been both a member and chairman of the Felton Bequest committee after Alfred's death. Russell also shared Felton's interest in Australian arts. So, while Felton died when Russell was only 25, the youngest Grimwade was the clearly the best choice to write about his life.
Who was Helen Ogilvie?
Helen Ogilvie was an Australian artist who lived between the years 1902 and 1993. She studied painting and drawing at the National Gallery School from 1922-25. She was well-known for her beautiful wood engravings, which were often used for bookplates and book illustrations. She taught herself these techniques after becoming interested in wood engraving through the works of Thomas Bewick, Edward Calvert and Eric Gill.
Her subjects matter was grounded in the everyday, such as her garden, animals and the bush, and her most famous engravings often pictured the disappearing humble homesteads of the Australian bush.
Flinders Lane: Recollections of Alfred Felton has been reprinted and is on sale now, for $34.99.