Welcome to the new MUP website
A beautiful new website with improved features, greater discounts and books, books, BOOKS!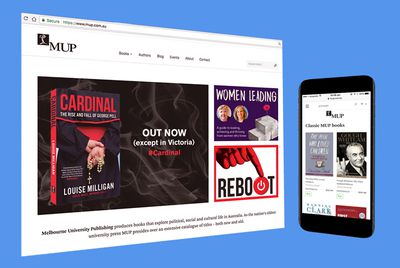 Welcome to the brand new MUP website!
This year Melbourne University Publishing celebrates its 95th birthday, making it the oldest university press in Australia – and the newest to gain a dynamic new website.
We've overhauled and improved many aspects of our website, some of which you'll see straight away and some that you'll notice over time. Please take a look around, browse some titles – and maybe buy a book or two!
Our number one consideration when creating and designing our new website was for the needs of our readers and customers. We've aimed to make the site as useful, informative and easy-to-use as possible – so that your experience at mup.com.au is as efficient and rewarding as possible.
We'd love to hear what you think of the new website. Thoughts and feedback are very welcome. Please get in touch.
Great content
Keep up-to-date with the latest books and news on the MUP website.
Check out our blog for book announcements, cover reveals, author interviews, book tour details and more. Our authors are often touring Australia, talking about their latest books and meeting readers – check out the latest MUP events here.
You can also read extracts from books on our website now. You might like to sample books like Modern Love: The Lives and John and Sunday Reed, Reboot and Into the Heart of Tasmania.
Our prestigious back catalogue
With 95 years of publishing behind us we have an extensive and prestigious back catalogue of books.
We're in the process of bringing many of these books back into print so that they are publicly available through our website. If you are looking for an old MUP book that doesn't seem to be on our website you can request it here.
Shopping online
We've made it super easy to purchase books through our website. Most of our books are available as paperbacks, hardbacks or ebooks – so you can choose the format you prefer.
When you place an order we'll notify you along every step of the way, so you know when your books are dispatched from our warehouse and when they're due to arrive.
MUP members get special discounts too (it's free to sign up and won't take a minute).
Here are the key details:
MUP members get 10% off all paperback and hardback books
Order totalling $50 or more receive FREE SHIPPING in Australia
University of Melbourne staff, students and alumni are entitled to a 25% discount
We're incredibly proud of all the books we publish. We believe our non-fiction publishing plays an important role in contributing to social and cultural Australian life.
Whether we're adding to the national history with books like Mark McKenna's collection of lost Australian stories, highlighting important contemporary issues like those in Susan Carland's Fighting Hislam or publishing the best peer-reviewed academic writing in Australia, our mission is always to connect important and worthwhile ideas with you – the reader.
Our new website is just the latest way of doing that.
Register for a free MUP membership here.
If you already have a membership login here or reset your password here.
---