Q & A with Juliana Engberg - Author of En Route
How travelling without a destination in mind helps Juliana Engberg find creativity and mental space.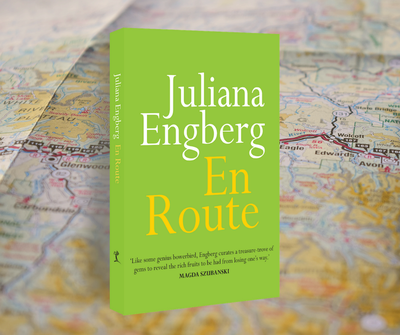 En Route is an ode to wandering through time and place, meeting personalities with no fixed addresses.
Juliana Engberg is an award-winning and internationally recognised curator, cultural producer and writer. In En Route, Juliana tells us the joys of going off the grid and travelling without a GPS. MUP spoke with Juliana about her adventures, her ideal travel companion, and the romance of being lost.
Q–What prompted the rumination on meandering?
Running the programme of the European Capital of Culture Aarhus 2017 I found myself on the road a good deal. 'ECoCS', as we affectionately call them, are frequently in slightly off-the-main-route places—2nd or 3rd cities—sometimes even more obscure and segued. It's part of the EU's decentralising of culture and tourism…which is a great thing actually, giving smaller cities a moment to grow their capacities, show themselves to the world, and attract new visitors to experience their culture which is both European and specifically unique…Anyway I found myself sometimes driving and otherwise travelling in unknown territories, and I always sort of meta-narrate my own journeying in my head.
"
I was travelling and wandering, and I tend to ruminate on what I am doing most of the time - like a kind of meta-narrative."
Juliana Engberg
So I guess when Louise Adler prompted me to put finger to keyboard that was just top of mind. In particular I was, by this time, thinking about the ways we used to navigate and the recent phenomenon of the GPS systems. One thing led to another.
Q–What literature or stories did you reach out for in the process of writing En Route?
It's mostly made up stuff or actual experience, or things I just, you know, know. Of course I had to check a few dates here and there. It's a meandering monologue, a comedy of sorts. Narrated in much the same way as you would talk to your co-traveller if you toured in a car for a long way—avenues leading to roads, to streets, to observations and memories. But I do have affection for writings about other places. E.M. Forster, Truman Capote, Henry James, Gertrude Stein and many others, had lovely ways of revealing places and customs. I didn't consult them. But I did re-read a couple on the road and enjoyed them again.
Q–We are in a goal-oriented society, where time is generally not allowed for meandering or wandering. Yet your personal philosophy aligns so well with your work in the arts. Have you ever found meandering to be too distractive?
No, the contrary. Meandering opens you to experience, thought, making connections, and relaxing whilst making you alert to the new, the unexpected and the sometimes challenging things in the real world that link to the metaphorical world and verso. I often find one needs to be nicely distracted in order to focus internally—to relax the mind. Many of my artist friends do this in their studios…just sit and think… and from this creation rises. The parallel worlds of conscious and unconscious thought assist the mental process of writing, formulating ideas. Also walking and swimming. Showers help too. Or sitting in a café.
When you work a lot on the road, and especially as a solo female traveller, you have the need to get out of the hotel, avoid the in-room dining and see something of the world and it's people. One of the things that I find particularly funny when solo dining is the rush to offer me a newspaper, a book, anything to, I assume, help me avoid the embarrassment of seeming to be 'without' a companion. I always say, 'Thanks so much but I like to think'. The waiters find this very strange.
Actually I work rather efficiently on the road and I think it's because I am somewhat stimulated and free of the ordinary routines. And as I venture in En Route, going off plot is actually brain stimulating and adds to your brain health. It might be a well used aphorism…but in fact, brain science now confirms that travel expands the mind.
Q–What kind of space do people need for creativity to flourish?
Mental space. And it sort of depends what kind of creativity you are pushing for. I find I need different kinds of environments for fiction writing as compared to interpretative and factual composing. For fiction I like a room with light, preferably large and with a view, which I generally avoid, but am happy to know is there should I want to have a mind wander. For the other kinds of writing a study or a business hotel room will do quite nicely and, oddly, semi darkness. A table well-positioned to access power and without wobbles also helps.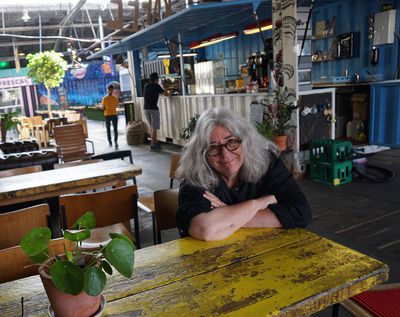 Q–Your relationship(s) with the GPS and their various respective tones, voices and personalities is a funny contemplation on the type of companion we need for travel or guidance. What, or who, is your ideal companion?
Someone open to adventure, curious, knowledgeable, resourceful and funny; and synched with my own need for food, water, and ablutions in a timely manner. Oh, and able to read a conventional map when the GPS team go haywire…which they do!
Q–There is a romance to being lost. Being able to find your way back, or relying on your memory, as you write, is a way to stimulate and enhance cognitive abilities. Is there a memory or a treasure that you discovered as a result of becoming lost?
So Many! The night lit by fire-flies in an ancient Royal Garden in Sri Lanka… I lost my way back to the colonial era government house. The lunch with an elephant in the home of a helpful driver who rescued my companion and I from the tea mountains, when we missed the one and only train for 2 days. The ancient monastery atop a mountain in Greece that a local drove me to see. And in particular, the kindness of strangers.
I got truly lost once after sleeping through my destination - Naples – and winding up somewhere that sounds like Bonaventura, but I'm not sure that was it, and the little Nona who had been sharing my carriage (in those days you had compartments, not like today which is akin to a bus, back then it was rather special and all pull-the-curtains and pull-up-a-coat and snuggle in secretive) realising I was totally off the plot and a bit, you know, hysterical and hungry, took me home and gave me a breakfast of bread and jams and wonderful coffee (laced I think with a bit of grappa) and offered me a shower and a bed … seriously generous and kind of her. I'm not suggesting all strangers are kind…you have to pick your Nonas! But given the chance, most people have generosity in them and you discover this en route.
You can purchase En Route at all good book retailers and online at MUP for $14.99.