Busting myths about the single life: Clare Payne
It's time to drop the stereotypes about single women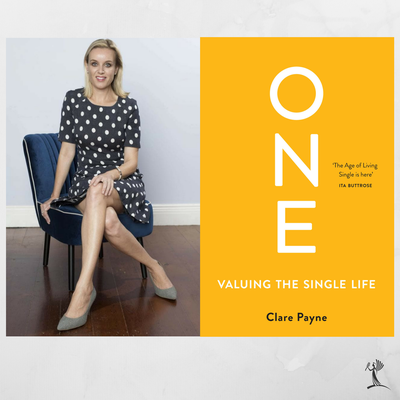 Single people, particularly single women, are harshly judged for their lifestyle. Here are some ways single women suffer the judgement of others about their relationship status, by Clare Payne, author of One.
As a society, we've made progress, however slowly, in understanding the ways we discriminate and unfairly judge others. However there remains an area where assumptions and biases have yet to be questioned – and that's in relation to single people. Most people won't even be aware that they hold a negative bias against single people.
When I caught up with a friend, I asked how his school reunion was. His response was: "20% of the guys were single and have done nothing with their lives". Why, I wondered, do these two things - being single and having an empty life – go together in people's minds? My friend didn't even think twice about making this comment in front of me, a single person, making it even more clear that people are totally unaware of how they unfairly stereotype single people.
Here are some ways single women suffer the judgement of others about their relationship status:
Single women don't care about family or like children
People presume that women who are single don't value family and family life. We need only think of what was asked of Gladys Berejiklian when she was elected Premier of New South Wales. A journalist posed the following question in relation to her single status: "The obvious question is, do you think this is a disadvantage politically because people have kids and they have families and people identify with that?" Gladys has had to emphasise repeatedly that the people closest to her are her family and that she values family life. It's curious that married politicians are never asked if they understand single people, who are a significant part of the voting public - one in four adults!
"
We are all potentially only a moment away from being single, it's time to learn more about the life we all might live."
Clare Payne
Single women are not homely, warm or feminine
Perhaps politicians are subject to the most public of judgements about their relationship status. Julia Gillard endured criticism of her 'lifeless kitchen' and empty fruit bowl in a media profile. Gillard had recently returned from a business trip, however her empty fruit bowl was taken as some type of metaphor for her life as a woman without children.
I've felt this myself: a friend once stood in my kitchen and asked, "What do you even have in all these cupboards?" There was an assumption that I didn't have standard kitchen items because I was single and lived alone. Believe it or not, like many other single people, I cook and entertain so I need and use all the standard items of an adult!
Work matters more than finding a man
When a woman isn't a mother and has a successful career, or even just a job, people presume that she has put her work before the task of finding a partner. In the inverse, her single status is sometimes thought to be out of her control: that she hasn't been 'chosen', no one wanted her.
The accompanying presumption is that something might be 'wrong' with her. The issue with these assumptions is that people just don't know what the real story might be.
Whether a woman will become a mother is such a sensitive subject that even family and close friends often don't know exactly why a single woman doesn't have children – the problem with this is that the assumptions they hold might be wrong and there's a lost opportunity to connect and truly understand her life.
A single woman is a threat
There are also more frustrating misconceptions. People fear that a single woman might steal someone's boyfriend or husband. Some single women feel they are less likely to be invited to dinner parties or weekends away because of their single status. Their lives are also subject to much speculation. If Samantha Armytage, a single woman, is out with a male friend she's referred to as a 'party girl' and the status of the relationship questioned publicly.
In some ways these issues might seem minor, but they are significant to single women. They go to the heart of how we understand and value people's lives. This is why it's time to breakdown and question the stereotypes we hold about single people. It's time we made the effort to understand the lives and contributions of single people more deeply in the hope that all lives are valued as they should be.
We are all potentially only a moment away from being single, it's time to learn more about the life we all might live.
---