Cardinal, Whiteley on Trial and Baby Lost longlisted for the Davitt Awards 2018
Davitt judges' wrangler, Jacqui Horwood, said more and more women authors were getting away with murder in the most creative ways.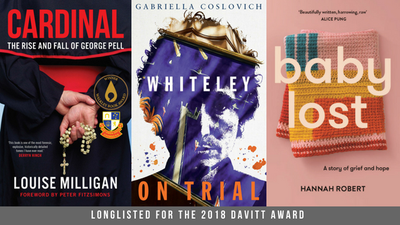 We're very excited to announce that Cardinal: The Rise and Fall of George Pell by Louise Milligan, Whiteley on Trial by Gabriella Coslovich and Baby Lost by Hannah Robert all longlisted for the Davitt Awards 2018.
A record 101 books are in contention for Sisters in Crime Australia's 18th Davitt Awards for best crime books by Australian women. This figure tips last year's record by two. An astonishing 71 are adult crime novels. More than a third – 37 books in total – are debut offerings.