Coming from MUP in 2017
New books from Dame Quentin Bryce, Moana Hope, Chloe Shorten, Susan Carland and many more.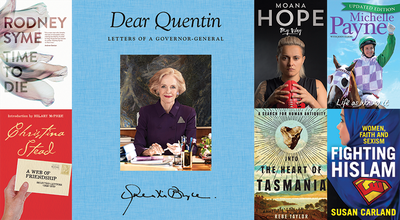 2017 promises to be a big year at Melbourne University Publishing with new books coming from Dame Quentin Bryce, Moana Hope, Chloe Shorten and Susan Carland, among others. Here are the highlights from the first half of the year. 
Rebe Taylor
A quest to properly understand the history and ancient culture of the Indigenous people that English explorer Ernest Westlake encountered during expeditions to Tasmania in the early 20th century.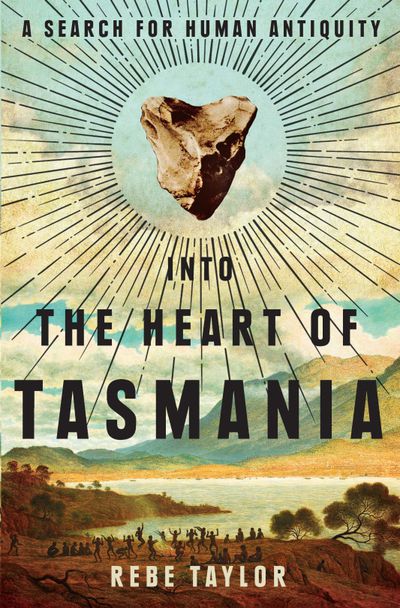 In 1908 English gentleman, Ernest Westlake, packed a tent, a bicycle and forty tins of food and sailed to Tasmania. On mountains, beaches and in sheep paddocks he collected over 13,000 Aboriginal stone tools. Westlake believed he had found the remnants of an extinct race whose culture was akin to the most ancient Stone Age Europeans. But in the remotest corners of the island Westlake encountered living Indigenous communities.

Into the Heart of Tasmania tells a story of discovery and realisation. One man's ambition to rewrite the history of human culture inspires an exploration of the controversy stirred by Tasmanian Aboriginal history. It brings to life how Australian and British national identities have been fashioned by shame and triumph over the supposed destruction of an entire race. To reveal the beating heart of Aboriginal Tasmania is to be confronted with a history that has never ended. 
Dr Rebe Taylor is a historian specialising in Tasmanian anthropology and archaeology.


Edited by Sidney Bloch, Stephen A. Green, Aleksandar Janca, Philip B. Mitchell and Michael Robertson
A new edition of the trusted introductory text for students of medicine and other health professions, including psychiatric nursing, psychology, social work and occupational therapy.
Foundations of Clinical Psychiatry has also been the essential reference for family doctors for over quarter of a century.
The four-part structure—an introduction to clinical psychiatry; conditions encountered; specific patient groups and clinical settings; and principles and details of typical clinical services, and of biological and psychological treatments—provides a clear overview of clinical practice. It also explores the causes of mental illness and the ethical aspects of its treatment, and covers the full range of psychiatric disorders encountered by health practitioners.

The fourth edition has been revised and updated by five editors, leaders in their fields, in collaboration with a new generation of expert psychiatrists and emphasises biological, psychological and social factors in assessing and treating patients, includes the integrated use of DSM-5 classification, and provides further reading suggestions. It is richly illustrated with dozens of clinical stories. 

Rodney Syme
Looking beyond assisted dying for the terminally ill, Rodney Syme critiques end-of-life practices for people who are enduring intolerable suffering, the inability of palliative care to deal with such situations and the prospects for change in Australia.
Medical science now allows us to live longer than ever before. So living with pain and dying well have become major concerns for the general community, health practitioners, church groups and politicians. Should these issues be decided in private by individuals or must we legislate ethical guidelines? 
Rodney Syme has been an advocate for medically assisted dying for more than twenty years. In Time to Die he reflects on those living and dying in pain and shares their stories. Syme makes a powerful case for extending the right to die to those whose suffering is unbearable.
Rodney Syme became a fellow of the Royal College of Surgeons in 1964. He has been president of Dying With Dignity Victoria for ten years. His book A Good Death (MUP, 2008) described some of his experiences in providing advice and medication to relieve suffering at the end of life. 




Christina Stead
A collection of Christina Stead's intimate correspondence with influential literary figures such as Stanley Burnshaw, Ettore Rella, Nettie Palmer, Clem Christesen, Elizabeth Harrower and A.D. Hope. 
February 27th
These letters span the life of one of Australia's most illustrious writers, offering a rare insight into the relationships that influenced and sustained her work. They reveal Stead's reflections on the art of literature, the development of her political thought, and the significance of a handful of friendships that would endure throughout her life and career.The letters cover Stead's arrival in England in 1928, as well as her time abroad in Europe and the United States. They also detail her marriage to William Blake, their life in England where they settled in 1953, as well as her brief return to Australia and her final years in England following Blake's death.
Christina Stead was born in Sydney in 1902, and was educated at Sydney High School and at the Teachers' Training College at Sydney University. She left Australia in 1928 and lived in England, Europe and the United States, writing and travelling with her husband, the novelist and political economist William Blake. In 1953 she and Blake settled in England. Widowed, she returned to Sydney in 1974, and died in 1983. The New York Times Book Review acclaimed her as 'one of the most distinguished novelists writing in English'. 


Moana Hope
A high-flying athlete who is grounded by remarkable selflessness, Moana Hope is an inspiration for women and girls everywhere. My Way is her story. 
Moana Hope is one of thirteen children. No fan of dolls or dresses, footy was always her passion, and she would spend hours each day playing kick-to-kick with her dad and brothers at the local park. When her dad was diagnosed with terminal cancer, Moana cared for him until his death four years later.Footy and cricket provided an escape from the demands of domestic life, and she made numerous state and national teams for both sports. She also began to explore her Maori heritage, getting tattoos that represented the dearest people in her life.
But as women's football became more popular, being good at the game wasn't enough, pressure was brought to bear on how players looked—Mo refused to grow her hair or cover her tatts, and for the first time in her life felt ambivalent about the game. A few years later, inspired by a women's exhibition game, Moana realised what she was missing and returned with gusto to the game she loved.
As a powerful full-forward who can thrill crowds by taking big marks and kicking spectacular goals, Moana was signed by Collingwood as one of its two marquee players for the inaugural AFL Women's competition in 2017.A high-flying athlete who is grounded by remarkable selflessness, Moana Hope is an inspiration for women and girls everywhere. It hasn't been easy, but she has done it her way.
Moana Hope is one of two marquee Collingwood players for the inaugural 2017 AFL women's league. She played cricket and football at both state and national levels before choosing to concentrate on football. Moana is the only VFL player to kick 100 goals in one season. 


Quentin Bryce
A beautifully produced, high-quality hardback featuring the letters the Governor-General wrote and received during her six-year term. Presented in glorious colour with numerous photographs, reproductions of Quentin's letters and personal stories behind the correspondence.
Royalties will be donated to Murdoch Children's Research Institute.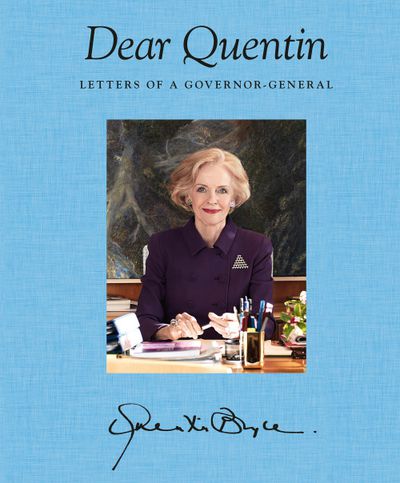 As Australia's first female Governor-General, Quentin Bryce handwrote more than fifty letters each week. She wrote to those she had met and connected with as her role took her from palaces to outback schools, from war zones to memorials, from intimate audiences to lavish ceremonies. She received even more letters from every corner of the country. Generous, witty and always heartfelt, Bryce's letter-writing skills were honed at boarding school, from where she would write to her parents every Sunday. Dear Quentin is a rich collection of the letters the Governor-General wrote and received during her six-year term to prime ministers Rudd and Gillard, VC Mark Donaldson, pals Anne Summers and Wendy McCarthy, Indigenous elders, war vets, Girl Guides, grandchildren, as well as the proud owner of a calf called Quentin. 

The Honourable Dame Quentin Bryce AD CVO has enjoyed a rich and distinguished career as an academic, lawyer, community and human rights advocate, senior public officer, university college principal, and vice-regal representative in Queensland, and Australia. Quentin served as Australia's twenty-fifth Governor-General. She was the first woman to take up the office. She remains a pioneer in contemporary Australian society, and yet one who brings more than forty years of experience in reform, community building and leadership. In 2016 she was chair of the Queensland Premier's Domestic and Family Violence Implementation Council.

Chloe Shorten
Honest, sincere and warm-hearted, this is a story about the evolution of modern families and Chloe's quest to create a new kind of normal in her own household.
These days, families come in all shapes and sizes. They move from one state to make a new family in another. They combine into new homes, take holidays with blends of children and parents from different households. They invent new routines and rituals to establish their own rhythms. And don't forget the double sets of school uniforms and pyjamas under different parents' roofs.Welcome to the new normal of family life for many Australians.
It is a path Chloe Shorten has walked. Chloe was surprised at the lack of helpful information and unexpected tripwires for those not fitting the traditional cookie-cutter model. She was also heartened by the sensible advice she unearthed, the resilience of her children and the joy of watching her husband become a new father three times over.
Chloe Shorten tells of her own quest to create a new normal. Honest, sincere and warm hearted, this is a story of the modern household and explores the idea of who qualifies as 'a family' in the twenty-first century. 
Chloe Shorten is a public affairs specialist. She has been committed to improving the lives of women, children and people with disabilities. She is the mother of three marvellous children—Rupert, Georgette and Clementine—and is married to Bill Shorten, the leader of the Opposition.


Life As I Know It (Updated Edition)
Michelle Payne
An updated edition of the bestselling memoir from the first woman jockey to win the Melbourne Cup. Includes a new chapter on the year after her historic win.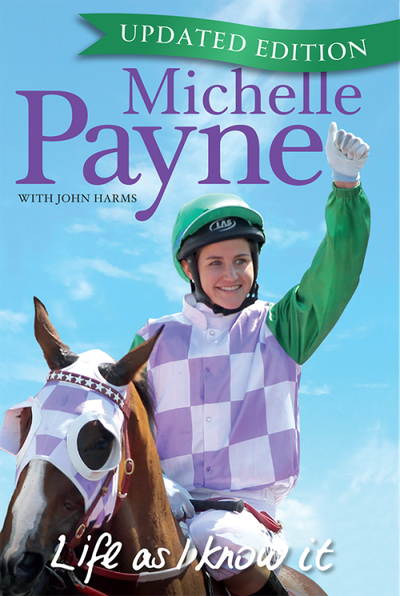 In Life as I know it, Michelle Payne tells her deeply moving story. It will lift your spirits, stir your heart and give you courage.

Michelle was six months old, the youngest of eleven children, when the family was hit with the tragic death of their mother, Mary. Their father, Paddy, a renowned horseman, raised his children alone. As a family, they all took on the daily demands of racehorses and a dairy farm as well as school and work. Family meant everything.
Michelle was put on a horse aged four. At five years old her dream was to win the Melbourne Cup. At thirty she rode into history as the first female jockey to win the Cup on the outsider, Prince of Penzance. Her strapper was her brother, Stevie. So when she declared that anyone who said women couldn't compete with men in the racing industry could 'get stuffed', the nation stood up and cheered.It was a moment that inspired everyone who dreams of beating the odds.
Michelle's hallmark grit and determination were needed in the year after her historic win. She took out her jockey/trainer licence while continuing the punishing regime of being a jockey. But a dramatic fall—resulting in a split pancreas—meant her year was filled with more rehab and reflection than rides.
Michelle Payne became the first female jockey to win the Melbourne Cup in 2015 on the local one-hundred-to-one horse, Prince of Penzance, trained by Darren Weir and strapped by her brother Stevie. 

Susan Carland
Looks at feminism and sexism in the Islamic world, and challenges pre-conceived notions that to be a feminist Muslim is to be a Bad Muslim.
The Muslim community that is portrayed to the West is a misogynist's playground; within the Muslim community, feminism is often regarded with sneering hostility.
Yet between those two views there is a group of Muslim women many do not believe exists: a diverse bunch who fight sexism from within, as committed to the fight as they are to their faith. Hemmed in by Islamophobia and sexism, they fight against sexism with their minds, words and bodies. Often, their biggest weapon is their religion.
At a time when the media trumpets scandalous revelations about life for women from Saudi Arabia to Indonesia, Muslim women are always spoken about and over, never with.
In Fighting Hislam, that ends. 
Susan Carland is a lecturer and researcher at Monash University's National Centre for Australian Studies. She has been listed as one of the 500 Most Influential Muslims in the World, and as a 'Muslim Leader of Tomorrow' by the UN Alliance of Civilisations. She was a co-creator and presenter of the ground-breaking television show, Salam Cafe and is an ambassador for Possible Dreams International.