December new releases
Art history, sociology and the 80th anniversary edition of Meanjin!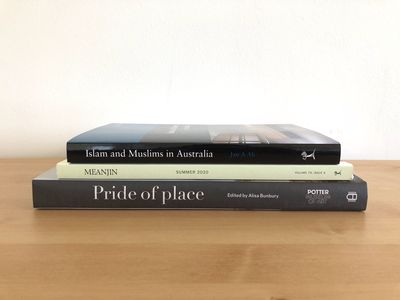 To close out this year, we are excited to publish the 80th birthday edition of Meanjin, as well as two new titles covering art history and sociology.
In the 80th birthday edition of Meanjin, writers address the theme: The Next 80 Years. Pride of Place by Alisa Bunbury is a stunningly packaged hardback exploring the rich visual and textual material in the Grimwade Collection, and providing a unique perspective on Australia's history. Islam and Muslims in Australia by Jan Ali examines the diverse ways Muslims engage with religion locally.
Read more about each title below. For the chance to win a free copy, make sure you're registered as an MUP member (sign up here), and send an email to mup-contact@unimelb.edu.au letting us know which book you would most like to read and why. Entries close Tuesday 8 December.
---
In December's 80th birthday edition of Meanjin, writers address the edition's theme: The Next 80 Years.
Tara June Winch and Behrouz Boochani offer a conversational meditation on time and the very notion of a future. Bruce Pascoe writes on the strange relationship non-Indigenous Australians have with trees, and wonders when we will realise that the forest is a friend. Peter Doherty sees a future world of worries—many of them viral—but settles on hope and the necessity of individual responsibility. Jess Hill wonders whether existing models of policing are fit for purpose in countering domestic abuse. Michael Mohammed Ahmad writes on whiteness and the idea of 'real Australians'. Jane Rawson looks at dramatic changes in Australian nature and wonders 'who belongs here?' And Raimond Gaita writes on the moral challenges that have been presented by Covid-19.
Other essays by Bernard Keane, Justine Hyde, Glyn Davis, Karen Wyld, Alice Bishop and Paul Collis, Tim Dunlop, Toby Miller, Nicola Redhouse. Fiction from Tara Moss, Julie Koh, Ben Walter and Kasumi Borczyk. Memoir from Eda Gunaydin, Mark Pesce and Jennifer Mills. Poetry from Jill Jones, Andrew Taylor, Boey Kim Cheng, Eileen Chong and more.
You can purchase a single issue here or subscribe to Meanjin here.
---
The Russell and Mab Grimwade Bequest comprises a rich and sometimes unexpected variety of art, books and objects. A scientist, businessman and philanthropist, Sir Russell had wide-ranging interests embracing industry, history and botany. In all of these he was strongly supported by his wife Mab.
The core of the bequest is Russell's collection of visual and textual material, which provides a perspective on the European exploration of the Pacific and the British colonisation and settlement of Australia. His keen interest resulted in an extensive body of prints, drawings, watercolours and books, as well as oil paintings, decorative arts and personal records. These are jointly housed by the University of Melbourne's Ian Potter Museum of Art, Special Collections (Library) and University Archives.
Pride of Place is the first publication to explore the diversity of this remarkable collection. In this beautifully illustrated book, numerous experts share their interpretations of its highlights, responding to past historical attitudes and offering twenty-first century insights.
---
Islam has long been a part of the multicultural landscape of major urban centres in Australia and encompasses a great diversity of theological, jurisprudential and cultural practices. Despite this, in popular discourse, media presentations, and political debates Muslims are represented as a homogeneous group.
This timely book examines the growing presence of Islam and Muslims in Australia and how it is transforming, and transformed by, social, cultural and religious spaces. Employing critical analysis and macrosociology, Islam and Muslims in Australia provides valuable insights into this growth and development and illuminates how socio-cultural, economic, and political processes maintain and manage the ways Australian Muslims build their religious lives and identities and engage in the wider world, while facing the inevitable effects of modernity.
This book argues that Islam in different parts of the world as well as in Australia is more than just a religion, a cultural system or a social structure, but is a complex composite of diverse institutional processes and functions, social routines and norms, and sacred rituals and practices responsible for shaping the lives of Muslims. This volume focuses on five broad areas of sociological analysis namely Muslim settlement, Muslim integration, shari'ah, Muslim education, and global terrorism.