Team MUP farewells Emeritus Professor McPhee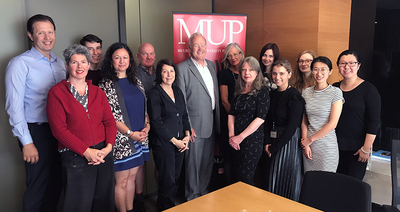 Today we bid farewell to Emeritus Professor McPhee, the Chair of Melbourne University Publishing for the past six years.
Professor McPhee, who is a Professorial Fellow of the University of Melbourne and continues to teach and supervise in the School of Historical and Philosophical Studies, succeeded Mr Alan Kohler in 2012.
An alumnus of Melbourne, Professor McPhee has held a Personal Chair in History since 1993. His senior roles at the University have included Dean, Deputy Vice-Chancellor and Academic Board President. He is a Fellow of the Academies of Humanities and of Social Sciences. He was awarded a Centenary Medal for services to education in 2003 and an Order of Australia (AM) in 2012. He has published widely on the history of modern France, notably Robespierre: a Revolutionary Life and Liberty or Death: the French Revolution. He was the University of Melbourne's first Provost in 2007-09, with particular responsibility for the 'Melbourne Model'.