📖 FEBRUARY GIVEAWAY 📖 : Surviving Your Split
Welcome to the club that you never wanted to join.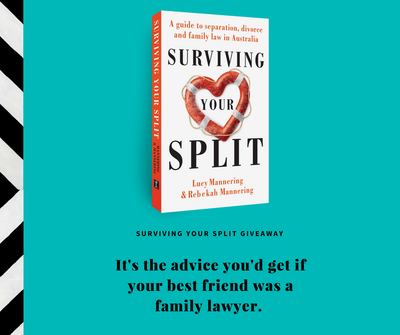 Have a look at one of our offering for February and then head over to MUP's Facebook page for your chance to win a copy of Surviving Your Split.
Did you know 94,000 Australians get divorced every year?
Of all major life events that mess you around, divorce comes in at number two, just behind the death of a spouse. It's a scary, confusing time.
Surviving Your Split is practical, humorous—it's the sort of guidance you'd get if your best friend was a family lawyer. It's for everyone who needs help to navigate the legal minefield of divorce, and wants some tips on how to get through it with their life relatively intact-and the possibility of creating an even better, happier life at the other side.
With help, you'll be armed with the most up-to-date tips on getting the best outcome for you, and for your family, and how to do it without totally destroying your relationship with your former spouse. After all, they're not going anywhere (especially if you've got kids—then they're really, really not going anywhere) and you've got them in your life forever.
The book also includes worksheets that can be used (if you're a worksheet kind of person) to help you make plans for your future, or to help you clarify in your mind what you really want, and to help you get a clear idea of questions you want to ask your lawyer. Studies have shown that writing things down makes us much more likely to implement our plans, and helps us realise what we actually want to achieve, and what questions we need to ask. The vast majority of businesses have business plans, and the worksheets are a way of using these techniques to help you through this time.
---
We have three copies to give away! To win a copy, visit our Facebook page now and LIKE and SHARE the post. The competition is open to AU/NZ residents only and entries close 6 PM AEST Wednesday 21 February. Winners will be notified via Facebook (one book per person only).