Q & A with Fleur Anderson – Author of On Sleep
Part-time insomniac Fleur Anderson ponders the big questions: Why can't I sleep?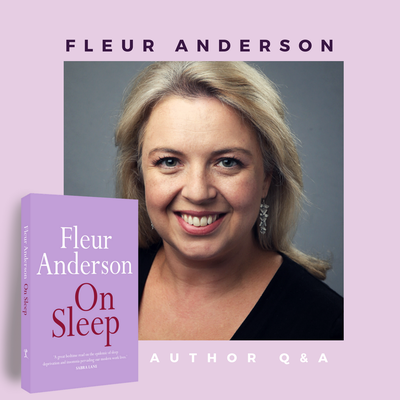 On Sleep is the story of our love-hate relationship with slumber.
Fleur Anderson is a former political journalist and parliamentary sketch writer. In On Sleep, she narrates the story of our love-hate relationship with slumber. MUP spoke with a self-professed, part-time insomniac, Fleur about the best middle-of-the-night tips for a good night's sleep, her experiences with sentient wearables, and the future of sleep.
Q–How do you sleep at night?
I would like to say that as a result of writing On Sleep I now sleep perfectly, having found the secret to curing insomnia. Ha! I'm just as bad as ever. I wake up at 1 or 2, too hot or too cold. I snore. I check my phone. I read my Kindle. I lie in bed wondering if my children have given me nits. Sometimes if I'm lucky, I'll get that last hour of sleep before dawn that keeps me going for the day.
Q–In our busy, super connected world, we need a new approach to sleep. One that helps us cope with our ever more demanding days and lets us be our personal best. What are some practical techniques that will get us the highest possible quality of sleep recovery?
We all know what we're supposed to do to ensure a good night's sleep – eat a light dinner, exercise, don't drink coffee or alcohol. Gosh it's boring. I think the middle-of-the-night sleep tips are the most helpful.
Have a really hot shower then let yourself be a little bit cold in bed. Apparently a falling body temperature encourages sleep.
Don't look at a screen but do listen to a podcast as long as it is not very interesting.
Try to list in your head, all the names of the kids in your kindergarten class.
As a last resort, tell yourself that you've given up and you are just not going to sleep tonight. It's amazing how lightening the pressure on ourselves helps us do the impossible.
Q–Do any cognitive behaviour therapy sleep apps actually work? Have you ever measured your own sleep patterns and behaviours?
I can't say which sleep apps have a proven track record for getting people sleep. I've tried a few meditation apps but they don't really help me switch off my mind. I find the 'Sleep with Me' podcast is the gentle distraction my brain needs to switch off. I tried to listen to it at work once, because I wanted to hear how the story about the male perm ended. The opening theme music had my eyes drooping in a kind of Pavlovian response.
I tried measuring my sleep with a Fitbit for a while, but found it depressing. On nights that I felt I'd won the sleep Olympics, my Fitbit claimed I'd only slept five hours. On nights when I was sure I hadn't slept a wink, my Fitbit would claim I'd had a solid block of three hours. After a while I started to suspect my Fitbit had become sentient and was deliberately messing with me for kicks.
Q–Asking for the politicians and workaholics in the room: Do we really need that much sleep?
Unless you are one of the three per cent of the population who can get away with less sleep, unfortunately we do need those eight hours shut-eye. I think the best reminder for politicians and workaholics is that research shows that those with even mild chronic sleep deprivation have difficulty recognising unethical behaviour in others, in themselves, or even realising there is a moral question right in front of them.
Q–Sleep isn't just part of the human condition: in On Sleep, you're writing about sleep as though it's a reflective aspect of our lives that evolves as much as we do. We're battling with sleep deprivation as we're challenged to always be 'switched on'. But what do we really 'lose' by switching off?
I'm not sure what we `lose' by switching off because I'm yet to manage it. I'd imagine we'd lose our habit of only being partly engaged with our loved ones, who in turn would lose that sneaking suspicion that they come second to the ring of a mobile phone or the ping of a text message.
Q–We're trading our privacy and personal information for more data on our health (when using wearables and tracking devices) while questioning governments' motives for asking for the same thing. But technology is just a passive means of ignoring sleep – do we actually want to rid ourselves of the 'disease' of sleep or do we just not look after ourselves properly?
I don't think we all want to be cured of the 'disease' of sleep. Certainly, some fans of the transhumanist movement (which argues for the inevitable merging of humans and technology) believe sleep can be deliberately manipulated. Some believe we will eventually be able to 'download' new skills, like a language or knowledge, during our sleep. Others think we might be able to do without sleep altogether so we can just Keep. On. Working.
Both ideas terrify me. I'd just like more time for a sleep in.
Q–What is the future of sleep?
I don't know what the long-term future holds. I do hope we are not to become a society of sleep haves and have-nots. In some ways we are already seeing this. Think of those who are forced to work a second night job to bring in extra money, or the growing number of homeless people sleeping rough during winter nights. For them, a good night's sleep must seem an unattainable daydream.
---
On Sleep is out now for $14.99.