Free ebooks from Miegunyah Press
Download biographies of Charles Conder, Robin Boyd and Russell Grimwade now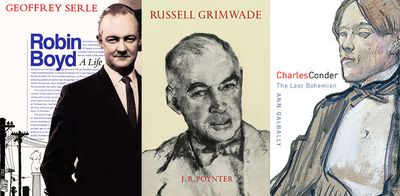 For a limited time these three Miegunyah classics are available as ebooks free of charge.
Miegunyah Press publishes lavishly illustrated landmark books that document the national story. Add any of the following three ebooks to your cart and go through checkout without paying a cent! We'll email you a link to download the ebooks. There are FAQs about our ebooks here.
The free ebooks are:
This offer is thanks to the Miegunyah Fund, established by bequests under the wills of Sir Russell and Lady Grimwade. 'Miegunyah' was the home of Mab and Russell Grimwade from 1911 to 1955. Find out more about Miegunyah Press here.
---