"I see a severe great aunt in a frilly apron when I read Richard Cornish's words"
Dani Valent reflects on Richard Cornish's Brain Food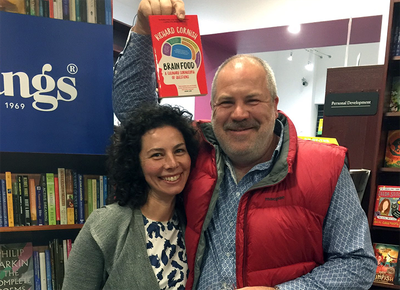 Melbourne writer, eater, traveller and cook Dani Valent was at Readings Hawthorn last night with Richard Cornish, who has just published a new book collecting the best of his 'Brain Food' columns. Dani had some lovely things to say about Richard and his writing and has given us permission to publish her words here.
I am a Brain Food fan. I love the erudition, the factoids and the tone. I see a severe great aunt in a frilly apron when I read Richard Cornish's words.
But what I love most are the images and questions his answers evoke of Australian home kitchens. The column suggests they are places where people stand perplexed over their flat sponge cakes, where they prod sadly at lumpy gravy and wonder where things went wrong, where they regard the tangle of utensils in their second drawer and puzzle over which one to use for the task at hand.
These are kitchens full of real ingredients not packaged pseudo-food. These householders have their flour in canisters, they have a reading chair and a preferred cup for their leaf tea. They have nice wooden spoons. They have time to cook (or they make time). Yesterday's Deliveroo is not in today's microwave. They live in hopeful households, where people intend to bake their own bread and get around to soaking fruit for their Christmas pudding months in advance. I love them all.
But there's no small dose of wistfulness. The audience feels somewhat lost. Their mothers and grandmothers didn't pass on their kitchen wisdom. They are flying – in many cases – blind or at least blinkered. And so they turn to Aunty Richard, a gently scolding know-all (or find-it-out-all) who wishes them well, and helps them with utmost good faith, but is not averse to a little snark along the way.
You can visit Dani Valent online at danivalent.com and follow her on Twitter – @danivalent.
Brain Food is out now.
---