Q & A with Joëlle Gergis – Author of Sunburnt Country
The author of Sunburnt Country answers a few questions about her writing process, her love of the natural world and what climate change means for her.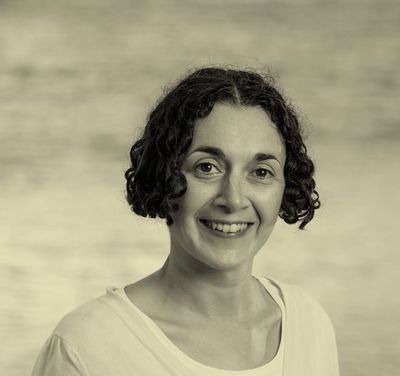 Dr Joëlle Gergis is an award-winning climate scientist and writer from the University of Melbourne. She is also the author of Sunburnt Country, a book on Australia's climate history and future that uncovers a continent long vulnerable to climate extremes and variability. Joëlle took some time to answer a few questions about her writing process, her love of the natural world and what climate change means for her.
"
You don't need to be a scientist to read the book; you just have to have an open mind. It's also an invitation to be part of the biggest cultural revolution taking place across the planet right now."
Joëlle Gergis
Why did you write Sunburnt Country?
It was an incredible opportunity to bring together my two greatest loves: writing and the natural world. I wanted to write a book that as many people as possible could understand so they can make sense of climate change and what it means for us in Australia.
So much of the public conversation about climate change centres on melting ice caps and polar bears, which is really hard for a lot of us to relate to. I thought if I put together Australian stories, it might help people make up their own mind about what climate change means for us here at home.
Given the increasingly extreme heatwaves, floods and bushfires we're now experiencing, it just felt like the right time to bring everything together to try and help people make sense of it all.
It also felt like a story that was ready to be told – I just happened to be the lucky person in a position to write it. To be honest, sometimes it felt like it was writing itself!
Q–How would you describe Sunburnt Country?
It's a book for anyone interested in understanding what climate change really is, and what it means for your life. It's a gentle way in to a topic that can sometimes feel overwhelming. You don't need to be a scientist to read the book; you just have to have an open mind. It's also an invitation to be part of the biggest cultural revolution taking place across the planet right now.
Q–What do you want readers to take out of Sunburnt Country?
We have a lot to lose with climate change, more than any other developed country in the world.
Natural cycles are no longer the only influence on our planet. Human activities are now warming the Earth in ways that are making our climate more and more extreme. This will make some parts of our country uninhabitable in the future.
All the technology we need to limit the amount of dangerous climate change we experience already exists right now. We are the sunniest continent on Earth, but only 3% of our electricity is generated by solar power. There is a clean energy revolution already happening all over the world – it's time for Australia to get on board!
Q–What was the hardest part of writing Sunburnt Country?
Sifting through hundreds of scientific reports, historical documents, newspaper articles, books and picture collections was a big job. The book distils an enormous amount of material that draws the latest climate science, Australian history, human health, psychology, politics and ecology into a concise, hopefully easy to read story.
That said, when everything clicked into place for the first time, I went through an emotional response that is best described as grief. It took me by surprise as I allowed myself to really hear what all the science and the history of our country was saying about future life in Australia. It was heartbreaking.
As a writer, it was really challenging walking the line between telling an interesting story while staying completely faithful to the facts – something all narrative non-fiction writers will understand. I think I drove my copyeditors nuts, but as a scientist, I need to be as precise as possible. As a storyteller, I understand that every sentence matters. Balancing those two elements was tricky.
On a personal level, my Dad died during the final editing and production process. I cared enough about sharing this story to keep working through a time of immense loss. Grief in my inner and outer worlds collided, pushing me into some pretty rugged psychological terrain. But some things in life are bigger than us – writing Sunburnt Country was one of those things. Somehow, I felt supported to keep going.
Q–What was the best part of writing Sunburnt Country?
It was a once in a lifetime opportunity to try and piece together our national story about climate change. Over the past ten years I've been extremely privileged to work with many of the finest scientists and historians in the country. I feel honoured to be a voice for all of the people behind the incredible stories contained in the book.
I also loved being able to devote time to work on something I really care about, but in an entirely different way. The process allowed me to blend those aspects of myself that I usually keep separate – the scientist and the storyteller, the head and the heart.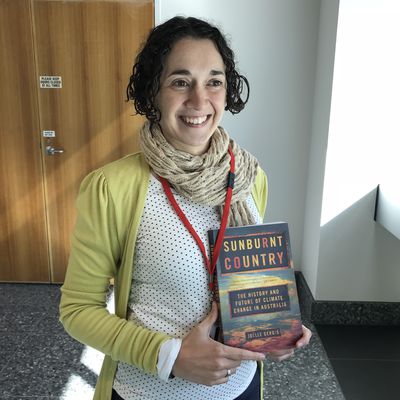 For the first time, I actually allowed myself to get a complete sense of what all the different lines of evidence were saying and how I felt about it. It was a bit like coming to terms with a really serious health condition – eventually, you come to realise that pretending that everything is ok is no longer an option. But when you eventually work past that, you begin to see that there are things you can actually do to help if you choose to stop turning away.
While I was writing the book, I kept this quote from a fellow climate scientist and writer, Jeffrey Kiehl, right near my computer screen: 'I do not become less of a scientist by opening my heart to the world. I become more whole. I embody a source of wisdom resting in each of us.'
It reminded me that it was ok to be moved by the material I was writing. Being a scientist does not exempt you from having an emotional response. I am human just like everyone else. It is deeply human to care about the things that really matter. I just hope by the end of the book the reader sees our world in a new light, and feels empowered to be a positive influence at this this pivotal moment in human history.
Q–What are you reading right now?
I'm in science mode again, but over summer I read The Trauma Cleaner by Sarah Krasnostein, Stories by Helen Garner, Our Magic Hour by Jennifer Down, and Wild by Cheryl Strayed – all terrific reads.
---
Sunburnt Country is out now, available at all good book stores and retailers and online at MUP. You can catch Joëlle speaking at Sydney Writers' Festival in May 2018.