Q & A with Lisa Harvey-Smith - Author of When Galaxies Collide
Dr Lisa Harvey-Smith reflects on her heroes, inspirations and the meaning of life.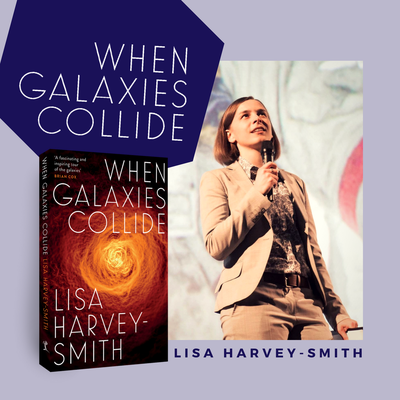 Lisa Harvey-Smith is an acclaimed and award-winning Australian astrophysicist at the CSIRO.
She studies the birth and death of stars and the properties of supermassive black holes.
In this Q&A, Lisa Harvey-Smith takes us back to the moment that inspired her love for the stars, her encounter with Buzz Aldrin, and how being an astrophysicist helps her stay grounded in a world that never stops moving.
Q–Was there a particular moment or event that inspired you to write this book?
I grew up in a small village in the UK and spent many evenings looking up at the stars with my Dad. I think my whole life has been enriched by knowing the constellations, the phases of the moon and the dance of the planets across the sky. As I learned more about astronomy and became a professional astrophysicist, that love has only deepened. Instead of blunting it, I found that the knowledge science adds to our gazing at the heavens gives an additional layer of wonder.
Q-How has research in astronomy changed over the last decade since technology and the Internet have become more integrated into your work? What changes have brought you closer to discoveries?
When I started my PhD we used 'Sun'-brand Unix computers, the type with no graphical user interface. Anything you did, you had to type in as text commands. Things have changed. We now use email and the Internet so much - frivously, I'd say. I think it was a lot easier to focus on your research before email and social media came along. People were more focused and less stressed.
That said, I now use some of the world's most powerful supercomputers in my research. Our new-generation telescopes generate so much data, we are left with no other option but to crunch the figures. It sounds harder than it actually is - we just log in from our laptops and send it commands!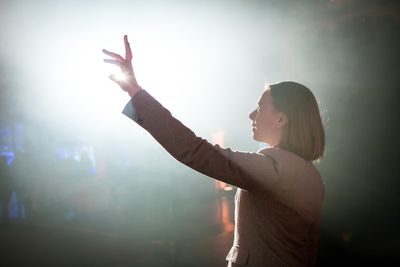 Q-Growing up and being home-schooled, who were your heroes and why did you look up to them?
As a kid my heroes were mostly sporting. Footballers and athletes were on posters all over my bedroom wall. There were few scientific role models available, but I did idolise astronauts, including Helen Sharman, Britain's first astronaut. I actually got to meet her once at a 'Space School' summer camp in London, but I was too shy to go over and say hello. I was such an idiot.
Q-Has being an astrophysicist prompted much reflection on the meaning of life, or philosophies?
I have always anguished over philosophy and the meaning of life. I read Sophie's World when I was a kid and that inspired me to write a poem on philosophy. That poem won the Wordsworth Trust poetry competition! I always loved the cleverness of the philosophical arguments and the attempts at logic, even if they were fallacies. It gave my brain something to chew.
Science is different. It has easy rules and structures. That said, I never fell in love with astronomy for the science. It was simply the beauty of the night sky. Thinking about it all gives me perspective on the scale of the universe and my relative unimportance. That realisation can help when I'm overrun with emails.
Q-You met some incredible characters during your life and worked with some extraordinary people. Can you tell us a little about some of the people who made especially strong impressions on you?
Meeting Buzz Aldrin and introducing his live tour was an absolute highlight for me. I had a poster of him on my wall (saluting the flag on Apollo 11) when I was a youngster, and it was painfully beautiful for me to be in his presence. I can't imagine a greater global icon to meet.
Working with Brian Cox on ABC TV's Stargazing Live has also been fantastic. He is such a fabulous communicator and it has been great to see his process for creating great science television shows.
Q-What message do you want to leave with readers of your book?
Look at the stars. They are our genesis and our fate.
---
Australian National tour announced
Lisa Harvey-Smith takes audiences on a journey 5.8 billion years into our future with her 2018 national live tour of When Galaxies Collide.
Presented by the International Centre for Radio Astronomy Research, Outback Astronomy - Broken Hill, and Science & Technology Australia, tickets for Lisa's tour are on sale from August 2018 with the tour commencing late October 2018. For all tour details, visit RMS Entertainment or Lisa Harvey-Smith's website from the end of August. Take the journey into a futuristic universe through an astronomer's stunning vision.
You can purchase When Galaxies Collide at all good book retailers and online at MUP for $29.99.