📖 MARCH GIVEAWAY 📖 : my family and other animus
my family and other animus is an ode to family life in all its glorious mess and chaos.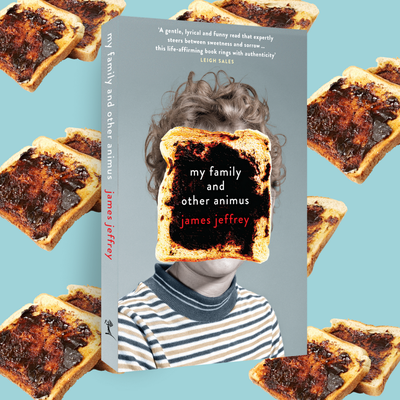 Head over to MUP's Facebook page for your chance to win a copy of my family and other animus.
For the young James Jeffrey, the day his parents split caused a crack on the surface of the domestic life. Life took on a seismic instability filled with madness and strain and vendetta and daftness and acts of love, both beautiful and misguided. For better or worse, his family handed out lessons that would guide him through life, into marriage, and eventually parenthood. 
Warm, smart and downright hilarious, my family and other animus is rich of witty anecdotes and unexpected wisdom. From his 21 rules to achieving a better life ('don't be a dick') to his lessons on family planning, James' account of life, loss and parenting is refreshingly honest and poignant. This book is for those who understand – or at least want to understand – that silver linings are all around us. And that a memory of a kiss can be stronger and shinier than a knife's blade.
Stretching all the way from birth to death to birth again, my family and other animus conveys words of pure, ink-scented wisdom and it reminds us that even the bumpiest of childhoods can be full of blessings, albeit blessings you don't understand until later in life.
---
We have three copies to give away! To win a copy, visit our Facebook page now, and LIKE and SHARE the post. The competition is open to AU/NZ residents only and entries close 6 PM Friday 9 March Winners will be notified via Facebook (one book per person only).