Meanjin Autumn Edition – out March 19
March Meanjin features the Nauru Diaries of former Royal Navy doctor Nick Martin.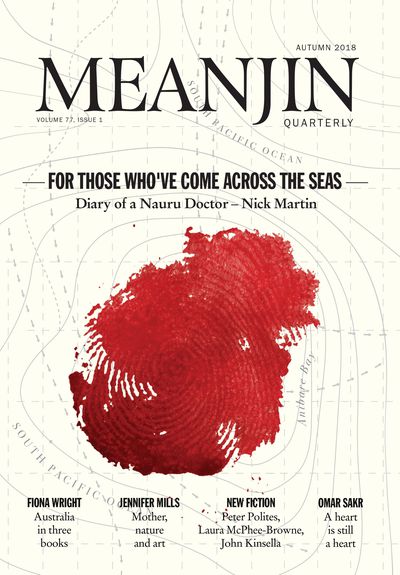 With fiction from Laura McPhee-Browne, Peter Polites, John Kinsella and Paul Dalla Rosa and poetry from the likes of Stephen Edgar, Chris Wallace-Crabbe, Marjorie Main and Judith Beveridge.
Highlights from Autumn 2018
Nothing in his time as a British Royal Navy doctor at war prepared Nick Martin for what he found in his stint working as a medico for the Australian Department of Border Protection on Nauru.
"It was way more traumatic than anything I'd seen in Afghanistan."
Frustrated and appalled, Martin would turn whistleblower in the end. In 'Diary of a Nauru Doctor', he describes the living mental, physical and bureaucratic hell of Australia's detention regime, and explains how what he saw on Nauru forced him to make that experience public.
The edition also features:
Paul Daley on Indigenous commemoration and the statues that stand in its way, as well as Fiona Wright's version of 'Australia in three books'
A queer Arab man, poet Omar Sakr, grapples with western Sydney's rejection of the same sex marriage vote, while Dennis Altman ponders the long course of true love
Andrew Bushnell takes issue with identity politics, Kerrie Davies looks at Bertha Lawson and the nature of Australian heroism
Shannon Burns recalls an early sexual awakening marked by an age divide, Antony Loewenstein sketches his Jewish atheist journey and Jennifer Mills shares a moment of creative immersion with her mother.
Meanjin Autumn 2018 is out in all good bookshops and online on March 21.
---
Subscribe to Meanjin for just $80.
It won't be long now until subscribers start getting their copies of Meanjin's Autumn edition in the mail. If you're not yet a subscriber, there's still time to become one, by subscribing now.
You can also pre-order a single copy via the MUP bookstore or, order issues you might have missed.
Meanjin is many things. It's a print quarterly – and has been since 1940. It's also a website where content from that print magazine is gathered. The blog – it's called Spike, after the spit of land under Brisbane that gave Meanjin its name – many and varied pieces of writing on culture, criticism, current affairs and literature, among many others.