Meet the Vandemonians
Burdened by their pasts and their shame, their lives as free people were forever shrouded in secrets.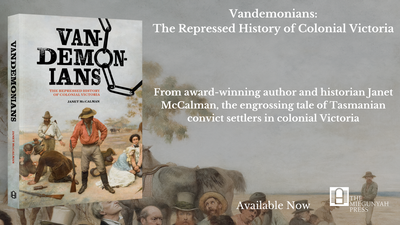 It was meant to be 'Victoria the Free', uncontaminated by the Convict Stain. Yet they came in their tens of thousands as soon as they were cut free or able to bolt. More than half of all those transported to Van Diemen's Land as convicts would one day settle or spend time in Victoria. There they were demonised as Vandemonians. Some could never go straight; a few were the luckiest of gold diggers; a handful founded families with distinguished descendants. Most slipped into obscurity. Burdened by their pasts and their shame, their lives as free men and women, even within their own families, were forever shrouded in secrets and lies.
Before you uncover the Vandemonian's fates, and the lives they lived and loved ones they valued; glimpse the most renown of Vandemonians to understand why Janet McCalman felt the need to discover their stories and individual places within Victoria's convict history.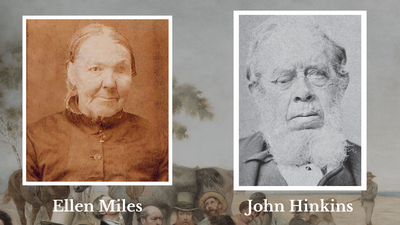 Dubbed the 'Buzzwinker' thanks to her pickpocket skills, Ellen Miles was born in the 1830s and lived until World War I. How aware she ever was of the Great World outside her tiny one of back lanes, brothels and bars, we have no idea, but she was one of those who spanned the history of Victoria from the discovery of gold to Gallipoli. Her underlife threaded through all the turning points; she waddled around the tent settlement of Canvas Town, Melbourne's city and suburbs, country towns, and for one mad adventure even Adelaide, her copious skirts concealing her latest stolen goods. Wherever there was a lurk to exploit and a lark to celebrate, Ellen was there.
John Hinkins was a literate young Londoner in a complicated relationship with a woman who kept a house of ill fame (or so he alleged). When she failed to keep him as she had promised, he stole two watches and pawned them; he was twenty-one. Under sentence he was difficult, absent from his place, thieving, dealing, receiving 100 lashes over three offences, and was confined to a chain gang. After two years of freedom, working as a shoemaker, he married a free immigrant, Jane Theobald, who bore two children, but she died after giving birth to their daughter in 1840.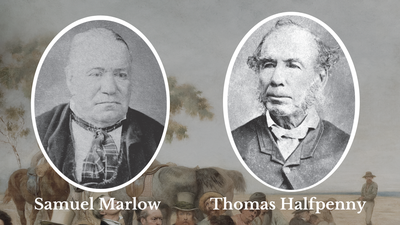 Samuel Marlow was a Londoner from The Boro (Southwark). He arrived early in Port Phillip, brewed beer and also made cordial and ran a hotel, living the rest of his life in inner Melbourne; he was a man born to the city. Marlow had another talent as a self-trained architect, designing Tavistock House in Flinders Lane, the remnants of which survive under an Edwardian makeover. He too speculated in land, selling 283 acres (114 hectares) near Dandenong in 1864.
Thomas Halfpenny came to Victoria in 1836, he claimed, and married twice in St Francis' Church in Melbourne. He had thirteen children, of whom only five were still alive when he died aged eighty-nine. He had been a government servant as the caretaker of Studley Park, and in 1892 The Argus made a successful fundraising appeal for the 'Old Colonist' who, at eighty-seven, was too frail to continue living by keeping lodgers.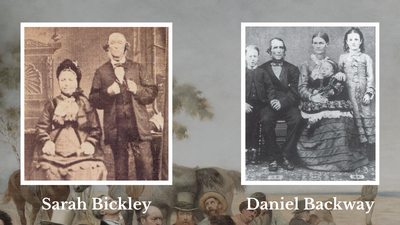 In 1857 Sarah Bickley stabbed her husband cleanly in the breast in Muckleford. They were said to have lived 'very uncomfortably' and the court was impressed with her respectable dress and well-behaved little boy who stood in the dock with her. It was only manslaughter, the jury decided. Twenty-two years later she married another ex-convict in Castlemaine; her son also remained in Castlemaine, married and had a family. Her great-grandson enlisted in the First AIF from Castlemaine. They had settled as a family.
Daniel Backway, aged sixteen, was sentenced at the Old Bailey to seven years' transportation for Theft, for stealing a coat. He entered the adult convict system and his only offence was complaining on behalf of another prisoner. He served his seven years and left Van Diemen's Land for Victoria in 1852. went to the goldfields, learned to be a miner and was on the electoral roll in 1856, when Van Diemen's Land was renamed Tasmania. He reassembled his wife's extended family and they settled on a miner's right in the town of Maryborough that was still providing a family home for his descendants a century later.
Vandemonians: The Repressed History of Colonial Victoria by Janet McCalman is available now.