Announcing the MUP Academic Monograph Catalogue 2019
This series showcases the best of Australian academic research and writing.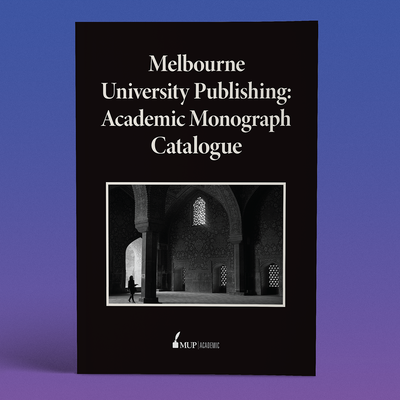 Browse the 2019 Academic Monograph Catalogue here.
MUP is proud to present a dynamic monograph catalogue of the very best Australian academic research on history, film, religion, the military and more. These titles are peer-reviewed and designed for readers and writers of scholarly material and specialist research. They are available to order via our website and in all good bookstores.

Out Now
In Reel Men, Chelsea Barnett engages with fourteen Australian feature films including Jedda, Smiley and The Shiralee to ask, what did it mean to be a man in 1950s Australia? Challenging common beliefs that the fifties were a 'dead' era for Australia cinema, Barnett offers a compelling exploration of beloved Australian films and national icons and their representations of family and masculinity. 

Edited by Kate Darian-Smith and James Waghorne, The First World War, the Universities and the Professions in Australia 1914–1939 examines how the technical and conceptual advances that occurred during World War I transformed Australian society. Essays from leading academics including Hannah Forsyth, Carolyn Rasmussen, Stuart McIntyre and Warwick Anderson highlight how WWI disrupted and shaped the careers of individuals as well as the development of Australian society and institutions.

Julie Suares offers a fresh take on a Prime Minister often overlooked by historians in JB Chifley: An Ardent Internationalist. Joseph Benedict Chifley, former train driver and PM of Australia from 1945–49, lived through two economic depressions and two world wars. This, combined with his rural background and commitment to the labour movement, played a major role in the development of his internationalist perspective.
Coming Soon

Defence

April heralds the third instalment from editors Peter J. Dean, Stephan Frühling and Brendan Taylor, After American Primacy: Imagining the Future of Australia's Defence. Like its companion volumes, this book brings together leading experts to examine the future of Australian defence policy. Later in the year, National Versus Human Security by Gregory MacCallion examines two Australian and Canadian military interventions to compare how the concept of human security works better in practice than it does in theory.

Islamic Studies
Muslims Making Australia Home by Dzavid Haveric documents Australia's rich, multi-ethnic Muslim history from post-World War II until the 1980s. Faith in Freedom by Nasifeh Ghafournia analyses Muslim immigrant women's own narratives of domestic violence and examines the implications of feminist intersectional perspectives for service provision, social work education and policy. And in Not 'Completely' Divorced, Anisa Buckley studies Muslim women in Australia and the impact of both Australian and Muslim family laws to ask, what happens to Muslim women who, when they can't initiate a religious divorce, are caught in 'limping' marriages?

History
Places of Reconciliation by Sarah Pinto offers a historian's look at the ways we commemorate reconciliation in Melbourne. The Knowledge Solution, edited by Anna Clark, brings together acclaimed historians and writers to reveal defining moments of Australian history. And in Breaking the Silence: Aboriginal Defenders and the Settler State 1905–1939, Alison Holland offers a new look at 'the great Australian silence', providing important historical context for the consternation of debates still being had in the Australian polity over Aboriginal affairs.

Development Studies

Finally, Too Close to Ignore by Mark Moran examines Australia's borderland with Indonesia and Papua New Guinea, situated less than five kilometres from Australia's most northern islands in the Torres Strait. This border is the focus of a range of security interventions by Australia and Queensland governments, including border protections, quarantine, environmental protection and infectious disease control.