Melbourne University Publishing announces Esther Anatolitis as the next Editor of 'Meanjin'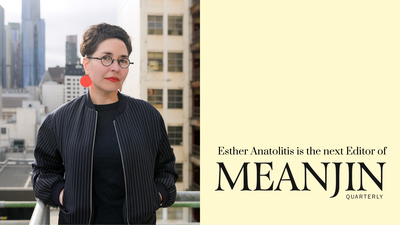 8 October 2022
Dr Nathan Hollier, Publisher & Chief Executive Officer at Melbourne University Publishing, today announces Esther Anatolitis as the next Editor of Meanjin.
'We are so pleased to have Esther taking the editorship of Meanjin. She is, rightly, widely known and respected as a cultural and intellectual leader of vision, passion and energy, and we look forward to seeing where she takes the magazine.
'Jonathan Green has built Meanjin's stature and sales as Editor. He has made a wonderful contribution to the magazine and the culture it is part of. We thank and congratulate him and wish him the very best for his next steps.'
With two decades in impactful arts and media leadership roles, Esther Anatolitis is a highly respected champion of artists' voices. Esther comes to Meanjin with extensive literary sector experience: she is a former CEO of Express Media and publisher of Voiceworks, an Emerging Writers' Festival founder, a Small Press Network founding partner and a former Melbourne Writers Festival programming committee member. She contributed to early pitches for Melbourne's UNESCO City of Literature recognition, and towards the development of the public institution now known as the Wheeler Centre. Esther has curated many literary events and talks series, honoured many a PEN empty chair, and mentored zine makers, small publishers and literary festival directors. Working rigorously across multiple languages, she has edited creative, literary and academic publications both in print and online, including Arts Agenda and Contretemps, and is a long-time Meanjin reader, subscriber and contributor.
A prolific writer with a career devoted to the ideas that create Australia's future, Esther is one of the nation's most published arts leaders. She has written for every major literary journal, newspaper and art and design publication in Australia, authored several book chapters and creative pieces, and presented at writers' festivals and events all over the nation. Esther is also one of Australia's most sought-after commentators on arts and culture, and has presented in advocacy forums all over the world. With a research and creative background in the arts, architecture and design, as well as print, online, broadcast and news media, she is Honorary Associate Professor at RMIT School of Art, and leads the strategic consultancy Test Pattern. Esther's book Place, Practice, Politics was published earlier this year by Spurbuch.
'I am deeply honoured to join Meanjin as Editor', said Esther. 'Since 1940, Meanjin has been Australia's literary journal of record, presenting the ideas Australia needs alongside the creative work that challenges and moves us. I relish the opportunity to work with the Meanjin team, building on the brilliant legacy of that great dynamo Jonathan Green.
'Right now, Australia's artists are being welcomed to lead national cultural and political agendas more than ever before; of course, no writer ever waits for that invitation. I look forward to the daily learning and deep invigoration that comes from working with Australia's most adventurous writers.'
Jonathan Green remains with Meanjin throughout 2022 and his final issue will be Volume 81 Issue 4 December 2022.
You can subscribe to Meanjin at meanjin.com.au/subscribe.
Esther will begin her Meanjin tenure on 10 October.
For Meanjin publicity enquiries, please contact Holly Hendry-Saunders:
Email: h.hendrysaunders@unimelb.edu.au
Phone: 0434 011 058