Melbourne University Publishing titles to reach worldwide academic audience via Ebook Central® Platform
ProQuest customers gain access to 630 ebooks from Australia's leading university press publisher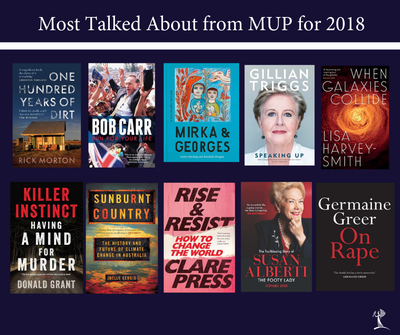 For the first time the entire catalogue of ebook titles from Melbourne University Publishing (MUP) is available to academic libraries. An agreement between ProQuest and MUP gives libraries access to 630 titles via the Ebook Central platform, where they can acquire them by demand-driven acquisition or single-title purchase.

"We are delighted that this new ProQuest partnership will make 630 MUP ebook titles accessible to students, faculty and researchers across Australia and worldwide," said Emma Rusher, Head of Marketing and Sales, MUP.

MUP's acclaimed titles now available on Ebook Central include recent bestsellers from One Hundred Years of Dirt by Rick Morton and Speaking Up by Gillian Triggs to Stuart Macintyre and Anna Clark's The History Wars, Mark McKenna's multi award-winning biography of Manning Clark An Eye for Eternity, Sheila Fitzpatrick'sOn Stalin's Team: The Years of Living Dangerously in Soviet Politics, Jenny Hocking's forensic biography of Gough Whitlam, The Land of Dreams: How Australians Won Their Freedom, 1788–1860 by David Kemp, Sunburnt Country: The History and Future of Climate Change in Australia by Joëlle Gergis, and A Matter of Trust: The Practice of Ethics in Finance by Paul Kofman and Clare Payne.

MUP was founded in 1922 at the University of Melbourne with a mandate to publish fine writing from the academy and beyond that contributes to public discourse. MUP is renowned for its award-winning books covering a wide range of subjects and genres important to academic library patrons—including politics, current affairs, history, art, cultural studies, science, true crime and more. MUP's titles are published under three main imprints: MUP, The Miegunyah Press and Victory Books.

"Ebooks from MUP have been at the top of many of our customers' wishlists," said Rich Belanger, Vice President and General Manager, ProQuest Books. "ProQuest is delighted that MUP has chosen Ebook Central as the first platform to distribute their popular content. This continues our commitment to providing unique content to academic libraries around the world while simplifying administrative workflows for libraries."

With Ebook Central, researchers can search for and pinpoint MUP content at the title, chapter or sub-chapter level, read books online or download them for later use, and highlight passages or make annotations for later reference. These titles join Ebook Central's collection of more than 1 million titles from distinguished publishers around the globe.

About ProQuest
ProQuest supports the important work in the world's research and learning communities. The company curates six centuries of content – the world's largest collection of journals, ebooks, primary sources, dissertations, news and video – and builds powerful workflow solutions to help libraries acquire and grow collections that inspire extraordinary outcomes. ProQuest products and services are used in academic, K-12, public, corporate and government libraries in 150 countries. Along with its companies and affiliates Ex Libris, Alexander Street and Bowker, ProQuest helps its customers achieve better research, better learning and better insights. For more information, visit our ProQuest Connect and Extraordinary Stories blogs, and follow us on Twitter, Facebook or Instagram.