MUP at Sydney Writers' Festival 2021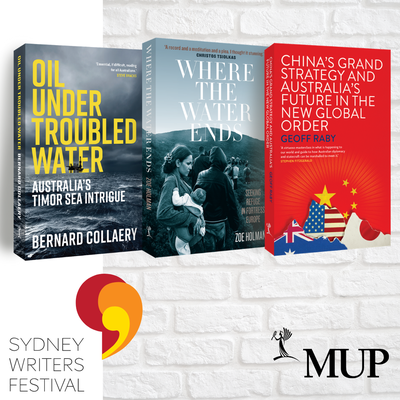 Sydney Writers' Festival has returned to Carriageworks for 2021 and we are very pleased to have three Melbourne University Publishing authors showcasing their expertise and literary talents this week.
Geoff Raby, author of China's Grand Strategy and Australia's Future in the New Global Order, will participate in a panel led by Barrie Cassidy on 29 April, unpicking the opportunities and limitations of the current government approach to the rise of China as a new global powerhouse. Tickets for 'Barrie Cassidy & Friends: The China Question' are available here.

Zoe Holman, author of Where the Water Ends, will speak on a panel about the ongoing refugee crisis, here and abroad, and why we must not allow the conversation to disappear from view. The panel will be hosted by Ben Doherty and include Behrouz Boochani (No Friend But the Mountains: Writing from Manus Prison), Adama Kamara and Zaki Haidari. 'Displaced' will take place on 29 April, but tickets are now SOLD OUT.
Zoe Holman's humanising approach to a much debated topic has received praise while provoking discussion about Australia's own treatment of refugees. Read our Spotlight of Where the Water Ends before you attend the SWF event

Oil Under Troubled Water author Bernard Collaery has two events lined up for SWF. 'On Rescuing', a talk about a country's legal obligation to save another person's life, has SOLD OUT. So be sure to secure your spot for his second event 'Blowing the Whistle: Government, the Law and Secrecy', which examines his ongoing trial for allegedly breaching the Intelligence Services Act by exposing Australia's bugging of the East Timorese government.
Sydney Writers' Festival will be a week of literary culture showcasing the best of public discourse. This year's Festival theme, Within Reach, celebrates the power of literature to bring us closer to worlds, ideas and voices beyond our own. The whole MUP staff and our authors hope to see you all there.