MUP to publish EN GARDE by Sarah Hanson-Young October 2018
In the era of wolf-whistle politics, women are sick of being degraded. Sarah Hanson-Young does not retreat.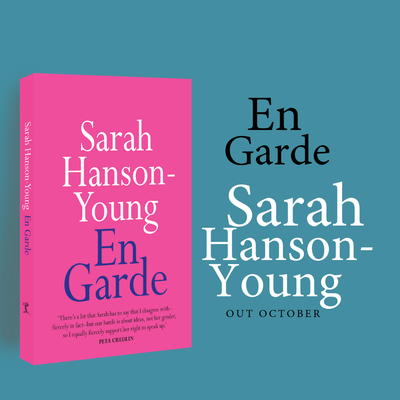 MUP is proud to announce that En Garde by Sarah Hanson-Young will be available in October 2018.
In June, Sarah Hanson-Young, a female Senator for the Greens Party and single mother, was told to "stop shagging men" by a fellow senator during a parliamentary debate. Hanson-Young had been participating in a debate on how to stop violence against women when Senator David Leyonhjelm called out from across the chamber, "Stop shagging men, Sarah."
When Hanson-Young called out the abuse she received from male parliamentarians as slut-shaming, she sparked a national conversation about the rampant sexism in politics. Since then a succession of women in parliament have confirmed that gender equality remains a major issue. 
"
I have written this book because I know I'm not the only woman who has been subjected to sexist slurs and abuse designed to undermine their confidence and intimidate them in the workplace. "
Sarah Hanson-Young
Hanson-Young writes:
People often say that the parliament is a place of 'rough and tumble' debate, as though that somehow excuses hostility and conflict that wouldn't be accepted in other workplaces. This, in and of itself, makes it harder for women to confront bad behaviour and bullying when they experience it, for fear of being dismissed or ridiculed as being weak and not up to the job. The barriers to women speaking up and calling out abuse in the broader community are amplified in an environment where strength and resilience are among the most valued commodities.
After witnessing the torrent of verbal abuse levelled at female parliamentarians and public figures, Hanson-Young is convinced that retreating is not an option, that now is the time to call sexism out. En Garde is a clarion call to action for women across the generations. 
The title En Garde is a nod to the distance between the government and opposition in the House of Representatives being two swords' length apart.
En garde is out October for $14.99.