MUP Series to Present New Perspectives on South Asia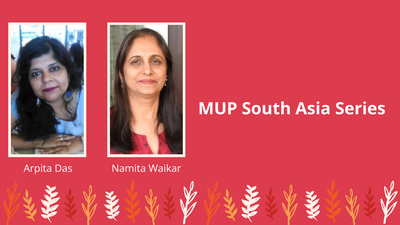 Melbourne University Press (MUP) has signed the first title in a new South Asia book publishing series: Farmers' Strike, by Namita Waikar.
"
I am very excited to be publishing Farmers' Strike and further books that we hope will find a strong readership amongst South-Asian Australian readers and help to build interest in and knowledge of South Asia, across the wider Australian community and around the world."
Dr Nathan Hollier
The series will be edited by award-winning Delhi-based editor and publisher Arpita Das.
It will feature writers and intellectuals from or on India, Pakistan, Bangladesh and Sri Lanka and aim to describe this region in works distinguished by an accessible style and close awareness of local realities and contexts.
"
I see this as a terrific opportunity to narrativise the contemporary South Asian reality internationally, and to make outstanding voices on the South Asian experience better known on the world stage. I am also honoured and excited to work with Dr Nathan Hollier and his team at Melbourne University Press."
Arpita Das
Works in the MUP South Asia series will be published in Australia and around the world by MUP, with partner publishers in South Asia.
Beginning in late 2020 near the borders of India's capital, Delhi, the farmers' protests for freedom from debt and a fair price for their produce are some of the largest in history.
Waikar, a novelist, biochemist and Managing Editor of the People's Archive of Rural India, draws on a broad knowledge of the experience of small-scale farming in India, over recent decades, to tell the story of the hopes and fears of the farmers involved in this vital struggle, one which has captured great attention around the world.