MUP statement about Cardinal: The Rise and Fall of George Pell
The book from ABC journalist Louise Milligan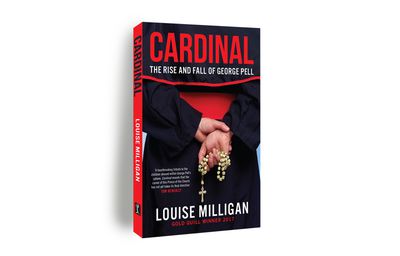 MUP is taking all reasonable measures to withdraw Cardinal: the Rise and Fall of George Pell by Louise Milligan from sale in Victoria now that Cardinal Pell has been charged.
Customers in non-Victorian states can buy the book online here.
Related posts
Cardinal – an update

It's been two weeks since we launched Louise Milligan's exceptional book of investigative journalism – Cardinal: The Rise and Fall of George Pell. Since then the response has been incredible.
Interviews, News and Stories. Bringing you closer to the conversation.
Sign up to our newsletter
Get all of our news—with offers, event invites and more—delivered straight to your inbox.
Posted on 10 Jul 2020

In this month's issue of The Monthly, author and climate scientist Joëlle Gergis draws on a recent study led by the CSIRO and Bureau of Meteorology to warn that 'we may witness planetary collapse far sooner than once thought'. As she has been for many years, Dr. Gergis urges Australians to confront the reality of climate catastrophe and the threat that it poses to our planet and our lives.
Posted on 23 Sep 2020

A Networked Community, The Convent and The Invention of Melbourne have all been shortlisted for the 2020 Victorian Community History Awards.
Posted on 20 Jun 2019

Bauhaus Diaspora and Beyond: Transforming Education in Art, Architecture and Design presents an extraordinary new Australasian cultural history. It is a migrant and refugee story: from 1930, the arrival of so many emigre, internee and refugee educators helped to transform art, architecture and design in Australia and New Zealand. Fift een thematic essays and twenty individual case studies bring to light a tremendous amount of new archival material in order to show how these innovative educators, exiled from Nazism, introduced Bauhaus ideas and models to a new world. As their Bauhaus model spanned art, architecture and design, the book provides a unique cross-disciplinary, emigre history of art education in Australia and New Zealand. It off ers a remarkable and little known chapter in the wider Bauhaus venture, which has multiple legacies and continues to inform our conceptions of progressive education, creativity and the role of art and design in the wider community.