MUP to publish Gabriella Coslovich's investigation into the Brett Whiteley art fraud trial
Whiteley on Trial is out on October 2nd 2017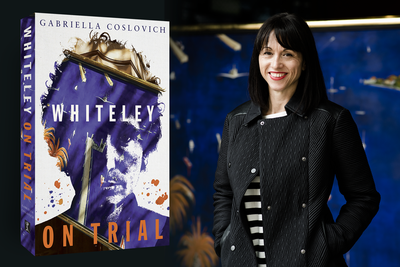 MUP is proud to announce the forthcoming publication of Whiteley on Trial by Gabriella Coslovich.
A gripping, meticulous and beautifully crafted drama, Whiteley On Trial investigates the biggest case of alleged art fraud to ever come before the Australian criminal justice system.
At the heart of the story are three huge paintings in the style of celebrated Australian artist Brett Whiteley, one of the country's most gifted and ultimately tragic artists who died of a heroin overdose in 1992.
A long-time arts journalist for The Age, Gabriella Coslovich followed the case for two years, studiously examining every aspect – from the creation of the artworks in a Melbourne art restorer's studio through to the alleged $4.5 million deception and the trial's controversial conclusion. She got to know the key players including Peter Gant, the art dealer at the centre of the case; Steven Nasteski, the Sydney luxury car dealer who paid $1.1 million for one of the suspect Whiteley paintings; and Brett Whiteley's ex-wife and witness in the trial, Wendy Whiteley.
The case grows more perplexing and momentous with every twist, unsettling the Australian art world and adding another distinct chapter to the story of the brilliant, late Brett Whiteley. Very few cases of art fraud reach the criminal courts and Gabriella questions the Australian criminal justice system's capacity to deal with the crime and considers its seeming disdain for the skills of art world experts.
Written with all the style and precision of a thriller, Whiteley on Trial investigates this remarkable case, exposing the avarice of the art world, the disdain for connoisseurship and the fragility of authenticity.
"
There's nothing wrong with making a fake that looks like a Whiteley, feels like a Whiteley, but in fact isn't a Whiteley."
John Ribbands, the junior counsel
---
"
You'd have to be blind not to have recognised it [Orange Lavender Bay] as a fake."
Wendy Whiteley, the ex-wife
---
"
Whiteley had bad days in the office, really bad days ... but there's a difference between a 'bad' painting and one in which the hand of the artist is so obviously missing."
David Stein, the conservator
Whiteley on Trial is out on October 2nd 2017.
---