MUP to release 'August in Kabul: America's Last Days in Afghanistan' by award-winning photojournalist Andrew Quilty
This is the story of how America's longest war came to an abrupt and tumultuous end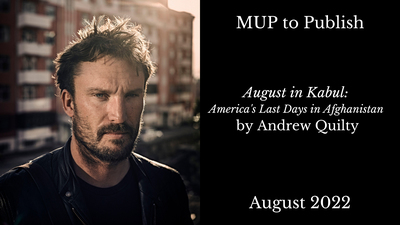 MUP is pleased to announce the acquisition of August in Kabul by award-winning photojournalist Andrew Quilty.
This is the story of how America's longest war came to an abrupt and tumultuous end, told through the eyes of participants who lived and witnessed this historic event first hand: Afghan soldiers and Taliban fighters; Presidential Palace staff protecting the president; American servicemen guarding the airport; and young Afghans desperately fleeing their country.
Andrew Quilty was one of a handful of Western journalists present in Kabul as the city fell. This is his account of what happened in the chaotic final days of America's capitulation to the Taliban.
A recipient of multiple awards, including a Gold Walkley and the Overseas Press Club of America, Quilty has established himself as one of Australia's great war reporters.
MUP plans to publish August in Kabul in August 2022.
Andrew Quilty has been based in Kabul, Afghanistan, since 2013, working first as a photojournalist and more recently as a writer. He has worked for most of the world's premiere news publications and won several awards for his work in Afghanistan. In Australia, he has been awarded a total of nine Walkley Awards, including the Gold Walkley, the highest honour in Australian journalism and, in 2021, the Walkley Freelance Journalist of the Year and Humanitarian Storytelling Award. Internationally, Quilty has been the recipient of a George Polk Award, a World Press Photo Award and, for his investigation into massacres committed by a CIA-backed Afghan militia, an Overseas Press Club of America award.