New Year, New Books
No matter your reading goal for 2019, we have new books to suit everyone's taste.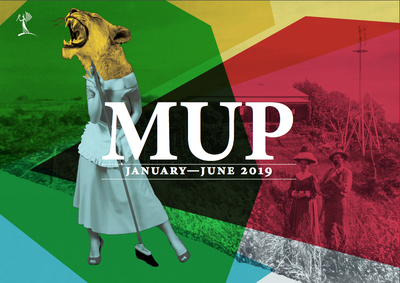 Have you set a reading goal for 2019? Whether it's to explore more non-fiction, to learn about new topics or to simply read more books, we're sure to have a book for you. Here to inspire is the MUP Catalogue January–June 2019 with a preview of our upcoming titles available now for pre-order. From new voices to headline-makers, these are some of the highlights over the next six months:
Jane Caro on tour
The highly anticipated Accidental Feminists by the inimitable Jane Caro is out in February, telling the story of women over fifty-five—the generation that changed everything. In Jane's own words 'it is boomer women who, in my opinion, have really made the greatest and most lasting difference. They have changed everything but they didn't grow up expecting to be revolutionary. They are accidental feminists'. Jane will be touring nationally, check here to see if she is coming to an event near you.
Adventurers, pioneers & inspirational leaders
Arriving in time for Mother's Day is the lavishly illustrated hardback Kindred: A Cradle Mountain Love Story about eco-tourism pioneers Gustav Weindorfer and Kate Cowle. With narrative non-fiction that will enthral readers, acclaimed writer Kate Legge reveals the love story at the heart of the World Heritage-listed landscape of Cradle Mountain in Tasmania. Also arriving in March, The Blackburns by Carolyn Rasmussen recounts the private lives and public ambitions of Maurice and Doris Blackburn—the progressive couple that shook Australia. And for future leaders, Shaun Carney's The Change Makers brings together twenty-five outstanding Australians—from diverse worlds such as science, the police force, netball, a spy agency, emergency medicine, business, politics and unionism—to share their insights and lessons on the essence of inspiring leadership.
Raw politics, bold exposés
Instant headline-maker Tour de Force: From Rookie to Top Cop by Roman Quaedvlieg hits shelves in March. From the mean streets of Fortitude Valley, to undercover operations with bikies and gangs in Melbourne and NSW, culminating in the raw politics of Canberra during his time as the first Commissioner of the Australian Border Force, Quaedvlieg has seen it all. This is a personal and political story that exposes a deeply conflicted national security system and asks whose interests were served by his spectacular sacking? Then in April, The People vs The Banks by Michael Roddan will be the first book to market on the banking royal commission revealing what happens when businesses put profit before punters, reward bad behaviour and think they are beyond the law. People will protest—you can bank on it.
Little Books on Big Ideas
Our 'On' series continues to thrive in 2019 with fresh topics explored by the very best voices in current affairs and social commentary including Sally McManus On Fairness, Paula Matthewson On Merit, Tim Soutphomassane On Hate, John Birmingham On Father, Natasha Stott Despoja On Violence and Stan Grant On Identity. From the way we respond to allegations against artists in the #MeToo movement to questioning the future of the ABC, these new little books punch well above their weight.
To add to your collection
Mr Guilfoyle's Honeymoon is the second book in a three volume series by Diana Evelyn Hill and Edmée Helen Cudmore. Celebraing Mr Guilfoyle—botanist, landscape designer, tourist and writer—this illustrated book explores the grand gardens and forests of Europe and Britain, as he did with his wife on their honeymoon. Following Land of Dreams by David Kemp is A Free Country: Australians' Search for Utopia 1861–1901, the second volume in a five volume series on Australian Liberalism. This book picks up where the first finished, telling, from a Liberal perspective, how Australians, inspired by their new democracy, attempted to use their freedom to build a society without social and economic conflict.

Here's to another year of great reading and 'books with spine' from MUP.