📚 NOVEMBER GIVEAWAY 📚: READ ON with MUP!
Read On with MUP!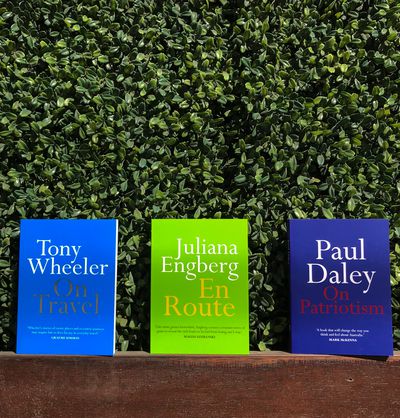 Head over to MUP's Facebook for your chance to win a pack of three titles: On Travel, En Route and On Patriotism.
En Route is an ode to wandering through time and place, meeting personalities with no fixed addresses. Assisted by her GPS or by more traditional map-reading means, Juliana Engberg takes you along on her adventures. Who knows where you will end up? You could bump into Greta Garbo, Casanova, Virgin Mary, or even the Dog on the Tuckerbox. A real journey is not always about the destination.
On Patriotism explores what it really means to love and serve your country. Paul Daley contemplates ways to escape the cultural binds that tie us to Anzac, British settlement and flag-waving.
Tony Wheeler, travel addict, Lonely Planet founder and intrepid traveller over five decades, has discovered that the more you travel, the more extraordinary the world becomes. His enthusiasm for trekking the globe is contagious: it is impossible to read On Travel without scouring for deals, searching for unusual places, and deciding to leave the luggage behind in an escape to the unfamiliar.
To celebrate Read On with MUP, we have two packs to give away! To win a pack, visit our Facebook now. Make sure to LIKE and SHARE the post.
The competition is open to AU/NZ residents only and entries close 6 PM on Thursday, October 11. Winners will be notified via Facebook (one book per person only).