November new releases
Four groundbreaking and engrossing new titles, and the new edition of an award-winning biography.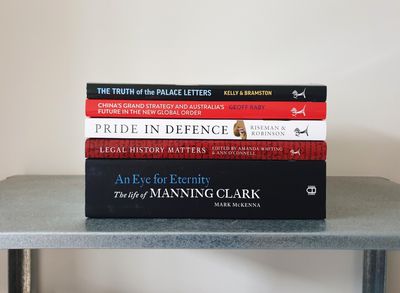 As the end of the year approaches, MUP is pleased to present four groundbreaking and engrossing new titles, as well as a new edition of Mark McKenna's award-winning biography of Manning Clark, An Eye for Eternity.
The Truth of the Palace Letters by pre-eminent political journalists Paul Kelly and Troy Bramston draws on newly discovered archival documents and interviews to reveal the true story behind Gough Whitlam's 1975 dismissal. In China's Grand Strategy and Australia's Future in the New Global Order former ambassador to China, Geoff Raby, provides insight on Australia's future position in global affairs. Pride in Defence by Noah Riseman and Shirleene Robinson traces the history of LGBTI members' service to the Australian Defence Force, and Legal History Matters edited by Ann O'Connell and Amanda Whiting presents a collection of essays that recognises the significance of legal history to our understanding of legal processes and institutions.
Read more about each title below. For the chance to win a free copy, make sure you're registered as an MUP member (sign up here), and send an email to mup-contact@unimelb.edu.au letting us know which book you would most like to read and why. Entries close Tuesday 10 November.
---
In July 2020 the National Archives of Australia released the long-suppressed correspondence between Sir John Kerr and Queen Elizabeth II, written during Kerr's tumultuous tenure as Governor-General of Australia. The letters cover the constitutional crisis that culminated in Kerr's infamous dismissal of Labor Prime Minister Gough Whitlam in 1975. In The Truth of the Palace Letters Paul Kelly and Troy Bramston reveal their meaning and significance for understanding the dismissal. The analysis of these documents and their authors throws a revealing light on the connection between the Queen in Buckingham Palace and the Governor-General in Canberra. Coupled with newly discovered archival documents and interviews, Kelly and Bramston explain the implications of the letters for our Constitution, our democracy and the republic debate.
Paul Kelly and Troy Bramston will be in conversation with Michelle Grattan on Monday, November 9 as part of the ANU/Canberra Times 'Meet the Author' series. This is a free, in-person event taking place at the Australian National University in Canberra. Bookings can be made here. More events to be announced, so keep an eye on our events page.
Disruption has blown the old world apart. The rise of China, Trump's America First policies, division within Europe and successful defiance by authoritarian states are affecting the shape of the emerging new order. Human rights, rule of law, free media and longstanding global institutions all seem set to be weakened. Autocracies are exercising greater control over world affairs. Australia will need to engage heightened levels of diplomacy to forge relations with countries of opposing principles. It will need to be agile in pursuing a realistic foreign policy agenda. China's Grand Strategy and Australia's Future in the New Global Order contains answers for how Australia must position itself for this possibly dystopian future.
Author Geoff Raby will be appearing in online and in-person events throughout November with conversation partners including Geraldine Doogue, Ali Moore, Caitlin Byrne and Richard McGregor. Visit our events page for more information.
Pride in Defence by Noah Riseman and Shirleene Robinson
Since the Second World War the Australian military has undergone remarkable transformations in the way it has treated lesbian, gay, bisexual, transgender and intersex service members: it has shifted from persecuting, hunting and discharging LGBTI members to embracing them as valued members who enhance the Force's capabilities. LGBTI people have served in the Australian military since its very beginnings, yet Australian Defence Force histories have been very slow to recognise this. Pride in Defence confronts that silence. It charts the changing policies and practices of the ADF, illuminating the experiences of LGBTI members in what was often a hostile institution. Drawing on over 140 interviews and previously unexamined documents, Pride in Defence features accounts of secret romances, police surveillance and traumatic discharges. At its centre are the courageous LGBTI members who served their country in the face of systemic prejudice. In doing so, they showed the power of diversity and challenged the ADF to make it a far stronger institution.
Manning Clark was a complex, demanding and brilliant man. Mark McKenna's compelling biography of this giant of Australia's cultural landscape is informed by his reading of Clark's extensive private letters, journals and diaries—many that have never been read before.
An Eye for Eternity, from the Miegunyah Press, paints a sweeping portrait of the man who gave Australians the signature account of their own history. It tells of his friendships with Patrick White and Sidney Nolan. It details an urgent and dynamic marriage, ripped apart at times by Clark's constant need for extramarital romantic love. A son who wrote letters to his dead parents. A historian who placed narrative ahead of facts. A doubter who flirted with Catholicism. A controversial public figure who marked slights and criticisms with deeply held grudges.
To understand Clark's life is to understand twentieth century Australia. He had a deep need to be remembered and this award-winning book means he will now be understood in an unforgettable way.
Legal History Matters edited by Amanda Whiting and Ann O'Connell
As a field of study, legal history has an unsteady place in Australian law schools yet academic research and writing in the field of legal history and at the intersections of the disciplines of 'law' and 'history' is undergoing something of a renaissance, with rich and vibrant new works regularly appearing in specialist journals and scholarly monographs.
This collection seeks to reinvigorate the study of history within the law school curriculum, by showcasing what students of the law can achieve when, addressing topics from the use of Magna Carta as history and precedent in 16th century England to the political manoeuvres behind the failed impeachment of President Bill Clinton in late 20th century America, they seek to understand legal processes and institutions historically.