October new releases
Prose poetry and pandemic recovery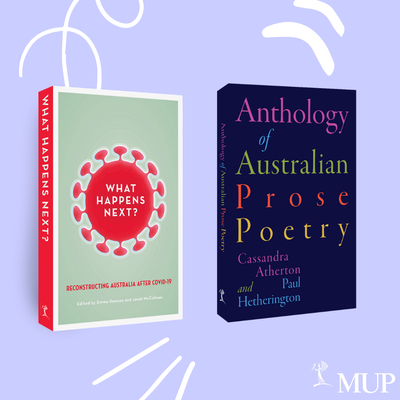 This month at MUP we are excited to publish two uniquely significant and timely new titles. Australia's most respected experts chart the way forward from the COVID-19 pandemic in What Happens Next?, while Australian prose poetry receives its long overdue spotlight in The Anthology of Australian Prose Poetry.
Read more about each title below. For the chance to win a free copy, make sure you're registered as an MUP member (sign up here), and send an email to mup-contact@unimelb.edu.au letting us know which book you would most like to read and why. Entries close Friday 2 October.

---
What Happens Next? edited by Emma Dawson and Janet McCalman
What Happens Next? is a much needed intervention in the most important debate facing Australia – how do we rebuild our society and economy after COVID-19, and what kind of country do we want to be? After the pandemic is under control, we will still be confronted with the crisis of climate change. With our old economic and social settings having been disrupted, can we rebuild them to ensure that we move quickly to a post-carbon economy and leave our children and grandchildren a better, fairer, more sustainable world than we inherited?
With contributions from some of Australia's most respected academics and leading thinkers, What Happens Next? provides a roadmap for resetting our economy in the wake of COVID-19. It points to the kind of country we could become, if we make the right choices now: one that is more equitable, more sustainable, and more enjoyable for all Australians.
Contributors include: Emma Dawson; Professor Janet McCalman AC; The Hon. Anthony Albanese MP; Thomas Mayor; Dr Liz Allen; Professor Clinton Fernandes; Dr Shireen Morris; Osmond Chiu; Michele O'Neil; Professor Fiona Stanley; Professor Mike Daube AO; and Dr Jim Chalmers.
What Happens Next? book launch
The Hon. Anthony Albanese MP will launch this important book in conversation with editors Emma Dawson and Janet McCalman, in an online event next Tuesday 29 September. Contributors Professor Clinton Fernandes, Thomas Mayor and Fiona Stanley AC will also be part of the panel discussion. Register for this event via the Australia at Home website.
Emma Dawson, Janet McCalman and select contributors will appear in a number of online events throughout October. Visit our events page for more information.
A comprehensive anthology that for the first time identifies and characterises the Australian tradition of prose poetry, an important and emerging literary form that has many distinguished Australian practitioners. Editors Cassandra Atherton and Paul Hetherington have gathered a broad and representative selection of the best Australian prose poems written over the last fifty years while documenting prose poetry's growing appeal over recent decades, from the poetic margins to the mainstream.
The Anthology of Australian Prose Poetry includes numerous distinguished prose poets such as Jordie Albiston, Joanne Burns, Gary Catalano, Anna Couani, Alex Skovron, Samuel Wagan Watson, Ania Walwicz and many more.
Be sure to follow MUP on Instagram, Facebook, Twitter and LinkedIn for an ongoing series of video poetry readings from the anthology.