Celebrating women: #IWD 2018
Celebrating our women – politicians, workers, mothers, wives, all of us – during International Women's Month.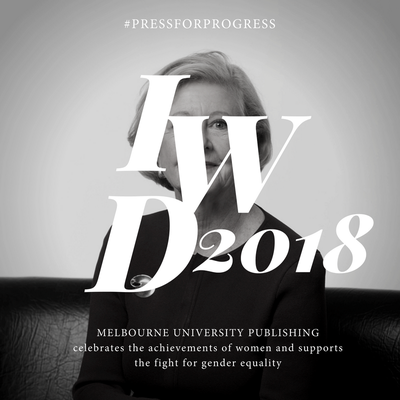 More than a hundred years after the first International Women's Day, the call for equality only continues to get louder. Whether we're talking about the #MeToo movement, exposing institutional and systematic abuse, or challenging the gender wage gap, we're igniting a conversation about major barriers to women's professional, educational and social progress.
IWD 2018 commemorates the very first IWD, and marks a rallying point to get behind women's rights, gender equality and participation in the economic and political arenas.
The theme for International Women's Day 2018 is #PressforProgress. We wanted to celebrate by drawing attention to some amazing women and their stories that we have published, especially how their stories have inspired us.
"
I feel strongly that one should speak up for the values that underpin our democracy and to support those who need protection. "
GILLIAN TRIGGS
Gillian Triggs
Professor Gillian Triggs has worked tirelessly to alleviate the plight of the marginalised. President of the Human Rights Commission, she has withstood both social and political pressures as she stood up for the disempowered. From human rights issues in multiple countries to Australian issues both rural and international, Gillian urges each individual to stand up for their fundamental rights. She challenges women to be less polite and for men to strive for equality for all.
Her memoir Speaking Up is for anyone who dreams of a more equal society.
Learn more: pre-order a copy of Speaking Up now.
Susan Carland
In Fighting Hislam, Susan Carland explores feminism and faith, and the Muslim women who are committed to both. The West's misogynistic portrayal of the Muslim community means that Muslim women are often spoken for, not to. Carland speaks with these women about standing against sexism and continuing their faith.
"
… it is left to those people thought not to exist — Muslim women who fight sexism — to rewrite those scenarios and reclaim our identities."
SUSAN CARLAND
IWD is a day to celebrate all women. Increasingly, people are calling for intersectionality in the fight for gender equality. In her work, Carland explores the ways in which Muslim women work within their communities. She breaks down stereotypes and assumptions. Muslim women have their own identities and have been fighting sexism for hundreds of years - something to be celebrated in this day and age!
Learn more: read an extract of Fighting Hislam.
Quentin Bryce
A collection of letters written and received by Australia's first female Governor-General, Dear Quentin is a testement to all of Bryce's many achievements. As a mother and Governer, her letters encompass anything from family life to legal reform. Bryce wanted to listen to the struggles of her fellow Australians – farmers, fathers and daughters alike sent Bryce personal letters and she did more than listen – she wrote back, and shared in their successes and struggles.
A celebration of Australia's twenty-fifth Governer-General is definitely needed.
Michelle Payne
In 2015, Michelle Payne made history as the first female jockey to win the Melbourne Cup on the local horse, Prince of Penzance. Raised by her father after the tragic death of her mother, family was everything. Michelle's success in the face of life's challenges is an achievement to be celebrated. When Michelle famously stated that anyone who said women couldn't compete with men in racing could 'get stuffed', Australia applauded. She is a champion of equality, breaking down women's boundaries in the racing industry. An inspirational figure, Michelle continued to face hurdles in her career, sustaining an injury after her big win. Her story, Life as I Know It, may inspire you, as her achievements certainty pushed for progress.
"
There are great people in life who give you inspiration to keep going and get through the hard times. I have been blessed to have such role models in my life. It would be a privilege if achieving my dream could inspire the next generation."
Michelle Payne
Learn more: AUSSIE actor Teresa Palmer has been cast as Michelle Payne in the movie about her historic 2015 triumph based in the book.
Moana Hope and Susan Alberti – Our Footy Ladies
Moana Hope and Susan Alberti spearheaded the movement for national AFL women's competition. In 2008, Moana Hope and Susan Alberti met for the first time, when Susan donated $25,000 to the Victorian Women's Football League (VWFL), a struggling organisation – at that time – entirely run by volunteers. Almost ten years later came the launch of a National AFL Women's League in February 2017, with the major driver being then-Western Bulldogs vice-president Susan Alberti.
Both My Way and The Footy Lady tell two tales of trailblazing women in Australian sport. At a time where AFL was still a hotbed of ocassional racism, sexism, and homophobia, both these women work to eradicate forms of misogyny and degrading treatment of women from the industry.
Learn more: Susan Alberti's work in funding research and work into diabetes, a disease which afflicts around 1.7 million Australians, has fundamentally changed the industry.
"
Why haven't we got women playing AFL football? It's not a privilege, it's a right."
SUSAN ALBERTI
---
Women's issues and achievements are at the forefront of the conversation – and we want to help ignite conversations! We have a few selected non-fiction books on sale from now until Sunday 11 March, 5pm.