Q & A with Erica Frydenberg—Author of Coping in Good Times and Bad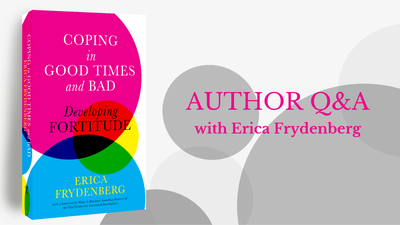 1 Coping strategies seem more necessary than ever for managing daily stress. Why did you decide to write a book about this?
Life can be challenging at the best of times – add COVID and more so ... How we cope with the challenges determines the quality of our lives and our successes at work, at home in the family and in relationships in general.
I wanted to translate this vast body of knowledge including research and practice into an accessible and useful format for the community at large, rather than remain in the domain of the academic research community. I wanted it to be a good read and a good resource to help make a difference in people's lives.
2 What is the difference between fortitude and resilience? And how does one develop fortitude?
Resilience is our capacity to bounce back from adversity. Fortitude is a collection of our coping skills, and resources that help us to cope with adversity and lead meaningful lives; that is, doing good as well as feeling good. We can do more than bounce back; we can enhance our wellbeing.
3 Can you share with us a simple coping strategy to manage day-to-day stress?
The most straightforward coping strategy to deal with whatever comes our way is to know where to turn to for help when you need it. Who are your trusted supports as people, or as sources of information? Line your supports up in your head should you need them.
4 What coping strategies should people avoid?
The least helpful coping strategy is to get mad at yourself. Something has gone wrong, it didn't work out as you wanted it to. The questions to ask, is what did I learn from that experience? What would I do differently next time? There is no point in beating yourself up or blaming yourself after an event.
The other unhelpful coping strategy is to worry about future events which may or may not happen. It is ok to think about and prepare for those events whether it is in the workplace or in a relationship, but worrying or anticipating a bad outcome before the event is not helpful.
5 What message do you wish to leave readers with by the end of the book?
My message is that we can learn a lot about the skills we use to cope. We do not need a crisis to start the coping journey. We need a set of tools that are readily available regardless of age, gender or circumstance.
We can shed unhelpful coping habits and develop helpful ones. Thinking about and talking about coping helps us to achieve the best outcomes. It's about working towards our personal best and building up the best coping skills. It is a ride we can enjoy.