Q & A with Justin Clemens and Thomas H. Ford—Authors of Barron Field in New South Wales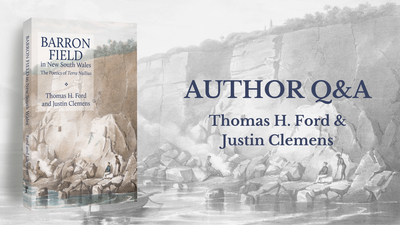 1. What sparked your interest in Barron Field?
Justin Clemens:
I had acquired an Australian Research Council grant to study contemporary Australian poetry, and do interviews with a number of contemporary poets. In the course of the research, I felt the need to reread 'Australian' 'poetry' from its settler inception, and quickly came across the very ambiguous name of Barron Field. He was on the one hand regularly cited as the man who had published the first book of poetry in Australia; on the other, he was usually deprecated, or treated in a highly ambiguous manner. Nobody seemed to think he was any good, yet, given his priority in publication, he couldn't entirely be expunged from the historical record. As I read further, I realised that because of his experience and position, that some of what now looked silly or irrelevant in his poetry was in fact a highly directed and carefully-calibrated poetico-legal strategy for forging a new Australia on constitutional grounds. After meeting Tom, it was clear that this book needed somebody who really knew something about English Romanticism and, more particularly, Wordsworth. Thankfully he agreed to collaborate!
Thomas H. Ford:
In a word, Justin. Justin had been working on Field for a few years and had made the discovery that he was responsible for both the first book of Australian poetry and the first articulation of terra nullius as the basis for Australia's colonisation. Justin gave a presentation on Field's poetry one evening to a small reading group of poetry enthusiasts run by Melbourne university undergraduates. I happened to go along, and was immediately gripped by the significance and implications of the material. Then it was just a matter of blagging my way onto the research project, which I did by stressing Wordsworth's importance as a model for Field's Australian poetry—luckily for me, my book on Wordsworth was freshly published.
2. What was the most interesting information you uncovered about Barron Field when conducting you research?
Thomas H. Ford:
For me, the research and writing of this book were one long learning process, a real education in Australian history. That covered everything from social history to political history to cultural history: from the faultlines and antagonisms of the early settlement, to the way power was wielded and contested, to the aesthetic resources colonisers used to domesticate their new territories and take imaginary possession of them. It's hard to pick out one single thing that stood out amongst all this as the most interesting. But perhaps the most surprising, to me, was just how interesting Australian history really was. At high school I had picked up the mistaken belief that Australian history was boring—the national story seemed to be all about sheep—and I hung on to that idea for far too long. Now I understand that this country was the site of unprecedented experiments in social modernity. Even the sheep are interesting!
Justin Clemens:
Just as Tom says, this book was a gigantic learning process; I knew almost nothing about colonial history, other than in a loose and general fashion. With and following Tom, after going to the archives, reading historical and legal texts, trying to absorb the latest in literary theory, as well as rereading familiar Romantic poetry very closely, it turns out that Australia is a very singular and extreme place in the history of European imperialism and colonisation, and Barron Field is a crucial part of that history.
3. What do you think of Barron Field as a poet?
Justin Clemens:
A notorious book by the 19th century German thinker Friedrich Nietzsche is titled Beyond Good and Evil—along those lines, I would have to say that, while nobody has really ever appreciated Barron Field's contribution (either legally or poetically), we would now have to count it as probably 'beyond good and bad,' which are terms that occlude the ingenious esoteric poetic and legal strategies that he deployed in his poetry and in his legal practice. He was a learned, literary and very ambitious person, who read widely and deeply, and understood that the power of poetry is not simply in expressing oneself, showing technical brilliance or innovation, or even contributing to social exchange: rather, it is in not-saying, not disclosing, and in careful effacements, that poetry becomes a kind of guide to law-making and political action.
Thomas H. Ford:
It's too easy to dismiss Barron Field as a bad poet—or as, at best, a quirky oddity. Considered at a purely technical level, his poetry is far from bad, particularly when viewed in terms of the tasks and operations he saw his poems to be undertaking. For instance, he understood how sonnets work. His knowledge of the archive of English literature was impressively comprehensive. And, most importantly, he really grasped the power with which Romanticism had imbued poetry. He saw poetry to be a way of using language that could institute new social forms and create new cultural communities. It's important to recognise that Field wasn't a bad poet in any of these standard senses if we are to understand properly the kind of poet he really was. He used poetry in very accomplished ways—technically proficient, thoroughly in touch with literary history, up-to-date with avantgarde understandings of poetic power—as an instrument of colonial genocide. So he was by no means a bad poet. He was very much worse than that.
4. Why did you choose the close reading of Barron Field's poetry as the method to analyse his actions in NSW?
Thomas H. Ford:
Close reading has traditionally been the core method of literary studies. It's a little contested within the discipline at present, and there are people who think we should abandon it for other kinds of approaches. But for me at least it remains unparalleled in its power to lay out the workings of texts in all their intricacies. I guess the other question that needs answering here is that of why it makes sense to look at Field's poetry as a way of investigating his legal and political actions. If terra nullius is the historically crucial novelty here—and it is—why not stick just to looking at law? Our answer to this question really follows Field's own thinking, which is perhaps best expressed in a line from Percy Shelley that we return to a number of times in the book, of poets being the unacknowledged legislators of the word. Poetry wasn't just some ornamental supplement that might rephrase in verse political and legal ideas that had been developed and implemented elsewhere. To the contrary: poetry was what really mattered. It gave force to the law, and was where power ultimately came from. So you have to look closely at the poetry.
Justin Clemens:
As per Tom's paragraph!
5. What message do you wish to leave readers with by the end of the book?
Justin Clemens:
The German philosopher G.W.F. Hegel says that what we learn from history is that nothing is learned from history—and that therefore history is nothing but an endless sequence of unknowing repetitions of catastrophes. From a position of weakness, it is this situation that historical knowledge tries, however derisorily or weakly, to curb. We have studied Barron Field in unprecedented detail in an attempt to draw attention to the ongoing effects of his work, to make them known in order to frustrate their further repetition.
Thomas H. Ford:
In important political, social and cultural respects, Australia remains a colonial nation. Field's poems—and the words and actions of men like him—still shape this country in ways we tend not to recognise. A key aspect in the work of decolonisation involves uncovering those formative actions and detailing their operations. Literary criticism is indispensable in that task.