Q & A with Liam Byrne - Author of Becoming John Curtin and James Scullin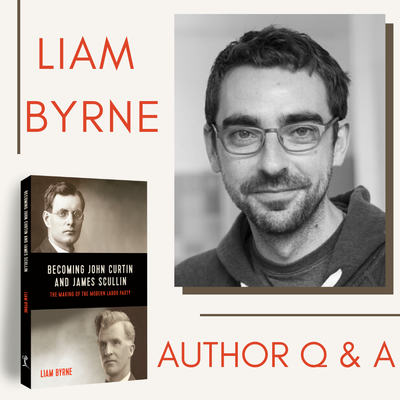 Before becoming the prime ministers who led Australia in moments of extraordinary crisis and transformation, John Curtin and James Scullin were two young working-class men who dreamt of changing their country for the better. Becoming John Curtin and James Scullin tells the tale of their intertwined early lives as both men became labour intellectuals and powerbrokers at the beginning of the twentieth century.
Liam Byrne was awarded his PhD by the University of Melbourne in 2017. In 2018 he began work with the Australian Council of Trade Unions, and in 2019 was appointed as its Historian. He has written for publications such as the Guardian, The Age, Kill Your Darlings and Overland.
---
Describe your new book in three words.
Available to purchase!
What inspired you to write Becoming John Curtin and James Scullin?
In his incredible multi-volume biography of Lyndon Johnson, Robert Caro argues that power reveals – and that it is when someone achieves the power they crave that you really understand them. But Caro disproves his own thesis, his biography consists of so many volumes because you cannot understand someone in power unless you understand the journey that brought them there, and what motivated them to achieve that level of influence.
Curtin and Scullin are defining figures in our history – but how did they become the leaders we know in our history books? I wanted to tell the real human story of two working class kids who joined the union movement with dreams of changing Australia for the better, and who reached the pinnacle of power because of these aspirations. It is a type of political coming of age story that tells how politics was lived and experience at this time, and how when 'ordinary' people come together inspired by the conviction that a better world is possible, extraordinary things can happen.
What has been the highlight for you in the process of writing this book?
So many people helped me along the way to writing this book, and I don't think anything will ever beat being able to tell those whose love and support was integral to the process that this story was going to make it to print. I get to hog all the credit because my name is on the cover, but really so many people contributed to making this happen.
Tell us about your writing routine. Where do you like to write? When and how often?
Unfortunately I write best in the morning – unfortunately because I am definitely not a morning person! So my routine predominantly consisted of waking up early before work and drinking as much coffee as possible while writing. I remember Graham Greene talking about how important it was to write 500 words a day to make writing a habit. Though a biography is very different to a novel, I found that when you focus just on getting those 500 words a day down the process of writing seems much more manageable. And after three coffees I always seemed to be typing very fast.
What are you currently reading?
Adam Tooze's Crashed about the Global Financial Crisis. Tooze is one of the best economic analysts going around, and his background as a historian adds real depth to his explanation of how the global economy does (and doesn't) work.
I am also reading Hilary Mantel's magisterial A Place of Greater Safety, a novel of the French Revolution. I recently finished the third book in her trilogy on Thomas Cromwell and loved it so utterly I just had to read more. Unfortunately, we won't have another Cromwell novel (hopefully not a spoiler), but this is a great substitute. I am a third of the way through and very attached to the main characters. I hope it ends well for them all.
What is in your to-be-read pile?
So many books! I think the most wonderful habit you can have is to constantly buy books with no reasonable expectation of finding time to read them. I would really love to say that I am likely to be reading one of these erudite and highly-cultured novels from the great writers across the world next, but I will probably just end up reading Harry Potter and the Prisoner of Azkaban again.
What message do you want to leave with readers of your book?
That hope endures. Curtin and Scullin lived lives defined by transformative crises. Both came of age during the economic depression of the 1890s, became prominent labour leaders during the First World War, Scullin governed during the devastating Great Depression, and Curtin led the country during the most trying times of the Second World War. Each man was guided by deep belief, and conviction. They rose to leadership because of these attributes, not in spite of them. These beliefs allowed them to overcome the barriers to change, and to persist through despair. They never ceased to try to make Australia a fairer and more equal place. Their legacy, ultimately, is the era of full employment, economic growth, and expanded opportunity that they helped bring into being. In our time of crisis, we must remember such people, how they made history, and that they too were often uncertain, despairing, and afraid. But we can make it through these difficult times, and we can create a fairer and more decent society on the other side. We know we can because it is what they did.
Dark times, eventually, will pass. But hope endures.
You can purchase Becoming John Curtin and James Scullin at all good book retailers and online at MUP for $34.99.