Q & A with Nathan Hobby—Author of The Red Witch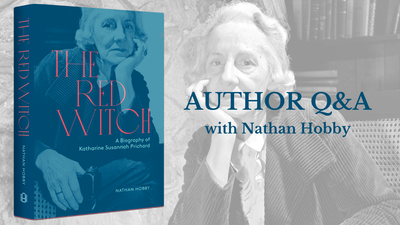 Through meticulous archival research and historical detective work, Nathan Hobby reveals many unknown aspects of Katharine Susannah Prichard's life, including the likely identity of the mysterious lover who influenced her deeply in her twenties, her withdrawal from politics during her remarkable five-year literary peak and an intimate friendship with poet Hugh McCrae. Lively and detailed, The Red Witch is a gripping narrative alert to the drama and tragedy of Prichard's remarkable life.
Nathan Hobby is a Perth author, librarian and honorary research fellow at the University of Western Australia. His novel The Fur (Fremantle Press 2004) won the TAG Hungerford Award. He blogs at nathanhobby.com.
1. Describe Katharine Susannah Prichard in three words.
· Loving
· Questing
· Believing
2. What sparked your fascination with this literary giant?
When I was eighteen and living with my grandparents while studying, I was runner-up in a short story competition run by the Katharine Susannah Prichard Writers' Centre. My grandparents drove me out to the centre, in Katharine's old cottage, to accept the award. Being old Western Australians, they both had opinions and stories about Katharine and her husband Hugo and I just wish I could remember what they were. There was a strong sense of Katharine in her wooden cottage and a life once lived there. I think a seed was planted.
3. What drew you to write her biography?
Katharine's writing itself grabbed me with the tragic vision of Coonardoo and then the jaunty romance of The Pioneers. Beyond that, she lived the most incredible life of idealism and triumphs tempered with tragedy. Her story had only been told from her son's perspective in the 1970s and I realised there were many mysteries left to explore and sources which hadn't been tapped.
4. What has been the highlight for you in the process of writing and researching?
It was a magical moment to hold Katharine's papers in my hands for the first time at the National Library. I'd flown to Canberra in 2014 and was in a reading room with just one or two other researchers, watched by one of the NLA staff. The uniform buff-coloured boxes were wheeled out on a trolley. To handle letters in her handwriting, paper she'd once touched, was uncanny. It made her more alive to me. Later, I had to make do with scans and transcripts only, as it was impossible to get back to Canberra when my two children were born and then Covid struck. But the experience of handling the originals stayed with me.
5. Were there any particularly surprising aspects of Katharine's life you came across in your research?
Some of the surprises were about finding shifts in her beliefs that have been ironed out by the simple label of 'KSP the communist'. It seems she was a devout Christian, despite doubts, up until her father's suicide in 1907. Her early dalliances with left-wing ideas didn't stop her writing in favour of compulsory military training in 1908. Her conversion to radicalism after the Bolshevik Revolution in 1917 wasn't simply to straight Marxism – initially, like other radicals, she was drawn to syndicalism just as strongly. Then there's the period between 1924 and 1929 when she wrote her three great novels - Working Bullocks, Coonardoo, and Haxby's Circus – in which it turns out she wasn't very involved in political activism and she took a break from the Communist Party, with the local branch barely operating. When she returned to Perth from Sydney in 1946, her main political involvement became the Peace Council. She was a defender of the Soviet Union ahead of the Communist Party of Australia, especially as the two diverged.
6. Tell us about your writing routine. Where do you like to write? When and how often?
Katharine's good friend, the writer Sumner Locke, once told a young man who was complaining that he had nowhere to write that if he really wanted to write, he'd write sitting on the edge of the bath if he had to. I took that as good advice over the course of writing this biography and snatched whatever time I could, with many words written at the dining table in the family room while toddlers made noise and mess. But I do have a bad habit of wanting just the right conditions. I like sitting outside with my laptop at the university when it isn't too hot or too cold. I like sitting in the silent room at the university library when it isn't too crowded. I like sitting at my desk at home when no-one else is awake. If I can have a day of writing, I treat it like a job and go from 9 to 5.
7. What are you currently reading?
Maud Newton's Ancestor Trouble: A Reckoning and a Reconciliation, a startling memoir about genealogy, genetics and family history. Also, my friend Tracy Ryan's wonderful new poetry collection Rose Interior.
8. What image of Katharine do you hope to leave behind with the readers?
One image isn't enough. I want readers to hold together the spirited Kattie of her twenties, determined to be the great chronicler of Australia; the world-weary Mrs Throssell of the 1920s, bursting with her best prose; and the steely Comrade Katya of her last decades, holding onto the tattered dream of the Bolshevik Revolution.