Q & A with Nikki Gemmell – Author of On Quiet
Behind the scenes with bestselling author Nikki Gemmell, author of On Quiet.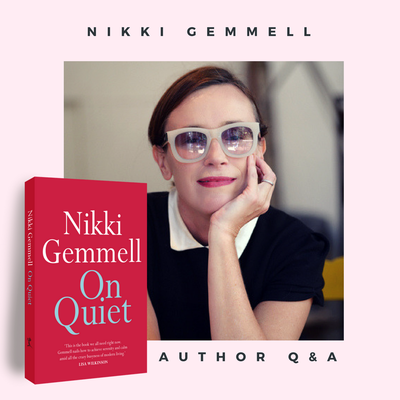 Nikki Gemmell is a bestselling international author of nine books. Her latest, On Quiet, is a meditation on the necessity of quiet in an increasingly-loud world. Of sound, and of stillness. She tells us what inspired her, her literary inspirations and how motherhood, and parenthood, affected her writing process.
Q–What prompted the rumination on 'Quiet'?
I was drowning in a cram of busyness, in screens and deadlines and jabber and a constant cry of "mu-uuum." Couldn't simplify my life. I needed the medicine of quiet because noise was making me sick; I was losing myself in the midst of it all. By researching quietism I wrote myself into it, and was rescued.
Q–What literature or stories did you reach out for in writing On Quiet? Tell us more about the artworks and stories you reference.
The book examines many different art forms, and their relationship to quietude, taking in everything from Katherine Mansfield and Virginia Woolf to Will Self, Mark Rothko and Jean Arp to Emily Kngwarreye.
"
I needed the medicine of quiet because noise was making me sick; I was losing myself in the midst of it all. By researching quietism I wrote myself into it, and was rescued."
Nikki Gemmell
Q–Being a mother, and motherhood in general, is a central part to the story in On Quiet. How do you find peace amidst the chaos of parenthood?
In the cram of motherhood it's hard to find quiet because you've given yourself over so completely to someone else. It's a complex annihilation, and hard to find quietude in the midst of that. Quietness, I've learnt, comes with letting go of what you cannot change. And marinating yourself in nature whenever you can. And learning to say no, more often; learning to embrace the liberation inherent in that word, particularly for a woman. I say no to a lot of demands now, so that I can concentrate on the two things that matter most to me - my family and my work. This was a revelation. I no longer feel so pulled and tugged by the demands of life. I've shed some friends in the process, those who were heart sinkers rather than heart lifters. I needed to, to feel buoyed by quietude.
Q–Are there any particular individuals that you believe epitomise the values of 'quietude' espoused in the book?
Marilynne Robinson, the writer. Her novels envelop you with a sense of contemplative, deeply considered quietude. And the fourteenth century philosopher and theologian, Julian of Norwich, who was the first woman to write a book in the English language as a far as we know. Her meditative prose brings you down to a beautiful stillness. "All shall be well, and all shall be well, and all manner of things shall be well." (Stolen by T. S. Eliot in his poem, "Little Gidding.")
Q–Is there something essentially feminine, or female, about 'quiet'?
Women are not meant to be quiet. Our true natures are loud and sparky and strong. Yet women are told from a young age to be quiet, obedient, neat, meek; to reduce that roaring spark within us to something contained and controllable. Quiet is a tool of the patriarchy to to silence, to render the female invisible, especially as we age. As women, let us not be quiet with our voices. Because by being quiet we are rendered invisble.
Q–Do you think digital detoxes are essential, or essentially redundant in an age reliant on constant communication? What would you suggest to those seeking to live a life blessed with 'quietude's replenishing bliss' – yet can't separate themselves from being constantly connected?
Get a safe. Similar to one in a hotel room. I did, from the local office supply shop. We lock all the kids devices away in it on a regular basis; when the screen agitation and aggro curdles. And then little faces are turned outward to the world again, and creativity unfurls, and wonder, and calm. The safe introduced quietude into our family, and rescued us.
You can purchase On Quiet from all good book retailers and online at MUP.com.au for $14.99.
---