Q & A with Phillip Deery—Author of Spies and Sparrows: ASIO and the Cold War
' ... monitoring and surveillance of citizens by security services carries huge human costs, both for the "persons of interest" under suspicion and for the informants collecting intelligence.'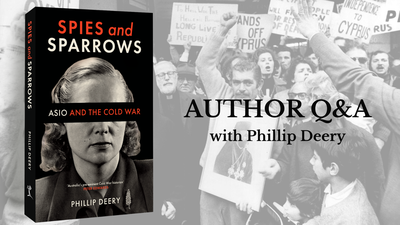 IMAGE CREDIT: News Ltd/Newspix
In the wake of the Second World War and the realisation that the Soviet Union had set up extensive espionage networks around the world, Australia responded by establishing its own spy-hunting agency: ASIO. Spies and Sparrows: ASIO and the Cold War shines a powerful new light on the history of ASIO and raises important and enduring questions about the nature and impact of a state's surveillance of its citizens.
Phillip Deery is Emeritus Professor of History at Victoria University, Melbourne. He has written over one hundred publications in the fields of communism, espionage, the Cold War and the labour movement. Spies and Sparrows: ASIO and the Cold War is his seventh book.
1 Tell us about your writing routine. Where do you like to write? When and how often?
After walking the dogs, I sit and think in my study and attempt to write every day, but not always successfully! Writing, after all, can be very slow and tortuous. It is in my case.
2 What are you currently reading?
Amor Towles' The Lincoln Highway (having greatly enjoyed his A Gentleman in Moscow) and Stuart Macintyre's The Party: The Communist Party of Australia from heyday to reckoning.
3 What is in your to-be-read pile?
Damon Galgut's The Promise, Jonathan Franzen's Crossroads and John le Carré's Silverview (his final novel).
4 How did you come to write this book?
I've long been interested in espionage, as revealed in fiction (eg. John le Carré), popular non-fiction (eg. Ben Macintyre) and scholarly studies. Here was an opportunity to indulge that interest! I decided to model my approach – focusing on individual stories against a Cold War backdrop – as I had used with my Red Apple: Communism and McCarthyism in Cold War New York. I hoped to transfer that approach to an Australian Cold War setting.
5 What has been the highlight for you in the process of writing and researching?
Immersion in the different archives has been my highlight. Archival research can be arduous and painstaking, and some files must be treated with circumspection, but when they contain new revelations the excitement is wonderful and the pulse quickens.
6 Were there any particularly surprising stories you came across in your research?
Anne Neill – her dedication to the cause of anti-communism on behalf of ASIO was astonishing. Working undercover for eight long years inside an organisation, the Communist Party, whose members she despised is a truly remarkable story.
7 What message do you want to leave with readers of your book?
First, that monitoring and surveillance of citizens by security services carries huge human costs, both for the 'persons of interest' under suspicion and for the informants collecting intelligence. Second, the importance of getting right the balance between national security interests and civil liberty concerns.