Q & A with Richard Broinowski - Author of Under the Rainbow
'We can all draw inspiration from the life and times of Edward William Cole, a true Australian maverick.'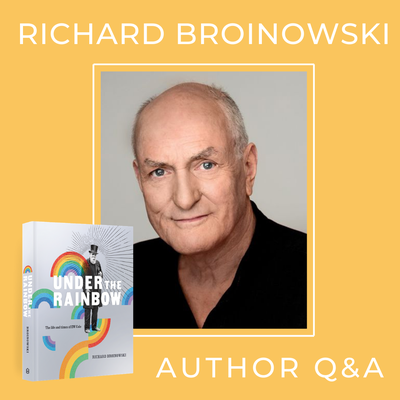 Under the Rainbow is the life story of E.W. Cole, a colourful and much loved figure of 19th century Melbourne. Best remembered for his Funny Picture Books, his sense of the absurd and his marketing genius, his wonderful arcade was the first 'department store' in Melbourne, replete with a live orchestra, an aviary and monkeys alongside books, ornaments, art, curios and tearooms.
But there was more to Cole than his merchandising prowess: he scandalised the clergy with his sacrilegious views about Christianity, campaigned passionately against the White Australia policy, and advocated education for all. Cole's journey from an impoverished sandwich seller on the streets of London to owner of one of the most memorable establishments of early Melbourne is remarkable. His passion for learning, insatiable curiosity, and enduring faith in the essential goodness of humanity make him a figure worth celebrating.
More than 100 years after his death, Cole's story is a timely reminder that a little bit of goodness can go a long way.
Richard Broinowski was born and raised in Melbourne. He gained a law degree from the University of Adelaide and a Master in Public Administration from Harvard. During a long career as a diplomat, he served in Tokyo, Rangoon, Tehran and Manila, before becoming Ambassador to Vietnam, then the Republic of Korea and finally to Mexico, the Central American Republics and Cuba. In the early 1990s, he took time out to be general manager of Radio Australia. He was president of the New South Wales branch of the Australian Institute of International Affairs from 2014 to 2017. In 2019 he was appointed an Officer in the Order of Australia for his advancement of Australia's diplomatic, trade and cultural relations. He lives in Sydney with his wife Alison, and cat Genji.
---
Describe your new book in three words.
Biographical
Captivating
Inspirational
What inspired you to take on this project about E.W. Cole?
I was attracted to write about a Victorian man who, without formal education, had remarkably unorthodox and independent perspectives about religion, education, race, children, marketing, hard work and loyalty. One who took quiet pleasure in expressing unconventional views that scandalised and entertained his rather stuffy Anglo-centric audience.
What has been the highlight for you in the process of writing this book?
No single highlight, but several. Going to Kent to research Cole's early life; going to my old haunts in Japan and absorbing a Japanese perspective about Australia's Restricted Immigration Act; contrasting Cole's 19th century predictions about human progress in the 20th century with what in fact took place (he was wrong about some things, but astonishingly prescient about others); and meeting so many people with a shared childish enthusiasm for Cole's Funny Picture Books.
Tell us about your writing routine. Where do you like to write? When and how often?
Most mornings, usually after a jog around Trumper Oval and breakfast, when my mind is fresh. I write in my study in Paddington on Glenmore Road, facing the old White's Garage. My cat Genji usually sits watching and monitoring progress. I take coffee breaks, but not too many. Afternoons I spend on research after a siesta, a habit I picked up in Mexico.
What are you currently reading?
Several books on Cambodia as research for my next book on Australia-Cambodia diplomacy during and after the dreadful Pol Pot years. For relief, in the evenings, I immerse myself in Hilary Mantel's The Mirror and the Light. If through mental exhaustion I lose the complex thread of who is plotting against or screwing whom, I switch to the latest Lee Child or William Boyd novel.
What is in your to-be-read pile?
Two books in particular - Thomas Piketty's Capital in the 21st Century (the best seller that came out in 2014 and that no-one has ever read), and Robert Hughes' The Shock of the New.
What message do you want to leave with readers of your book?
That we can all draw inspiration from the life and times of Edward William Cole, a true Australian maverick.
You can purchase Under the Rainbow at all good book retailers and online at MUP for $44.99