Q & A with Sue Silberberg - Author of A Networked Community
Sue Silberberg talks us through her inspiration, what she's reading and the highlights of writing A Networked Community.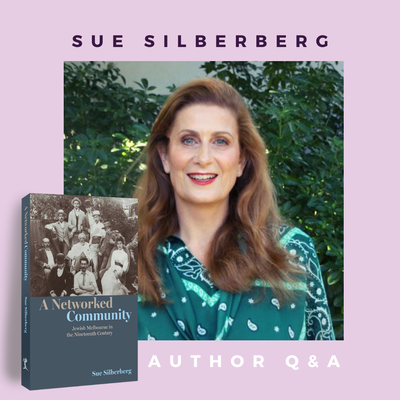 A Networked Community: Jewish Melbourne in the Nineteenth Century explores the cultural diversity the made up colonial Melbourne. It gives a new slant to Melbourne's development and connects Melbourne Jewry into wider historical themes and experiences such as space and place, urbanisation, imperial networks and diaspora.
Sue Silberberg is a historian, curator and arts administrator. She holds a doctorate in History from the University of Melbourne, where she has been a research fellow at the eScholarship Research Centre. Previously Silberberg was a museum curator and director in London and Victoria, specialising in historic buildings. She held senior government positions within the arts and was the director of the Cultural Festival for the 2006 Melbourne Commonwealth Games.
We spoke with Sue about what she's currently reading, why she wrote A Networked Community and the message she would like to leave with readers.
---
Describe your new book in three words.
Reinterpretation. Contextualisation. Innovative.
What inspired you to write this book?
I believe the complexities of the colonial experience haven't been fully explored. It is perceived as a remarkably homogenous group of settlers but this is not accurate, and the experience was more nuanced and diverse. From this perspective I wanted to examine the participation of Jews in the development of Melbourne. Simultaneously I wanted to understand the origin and values of the nineteenth century Jewish community.
What are you currently reading?
Anil's Ghost by Michael Ondaatje. His books discuss complex and harrowing issues with such beautiful writing, opening up a story like an onion. I have read a number of his books, and love his observations of characters and place.
"
Colonial Victoria was not an ethnically homogenous place, and we need to understand that diversity to understand its development."
Sue Silberberg on the core message of her book
What is in your to-be-read pile?
Memoirs of a Young Bastard, the Diaries of Tim Burstall, by Hilary McPhee. Although it came out a number of years go, I had not got around to reading it. This was the world of my mother's youth. She, and to a lesser extent her siblings make an appearance.
Building a Public Judaism, Synagogues and Jewish Identity in Nineteenth Century Europe by Saskia Coenen Snyder. It provides a fascinating understanding of urban history from a Jewish perspective. Combining architectural and social history to understand the experiences of Jewish communities in London, Amsterdam and Paris.
What has been the highlight for you in the process of writing this book?
I love research, and seeing the intricacy of history. Events, values and people don't exist in a vacuum, so understanding the forces which shape individuals and societies, and giving this context is what I find fascinating.
Originally I was a curator, so I always look for the object, quote or individual who best exemplifies the issue I am exploring.
What message do you want to leave with readers of your book?
I have two messages. That colonial Victoria was not an ethnically homogenous place, and we need to understand that diversity to understand its development. Secondly to my own community, that these nineteenth century settlers were able to archive something remarkable. They came to a society without any Jewish organisational structures and they successfully established these, modelling a Jewish community in their image. An image which was influenced by enlightenment ideas and the experiences of emancipation. In so doing, creating a society and values that were very different to those in eastern Europe.
You can purchase A Networked Community at all good book retailers and online at MUP for $34.99.