September new releases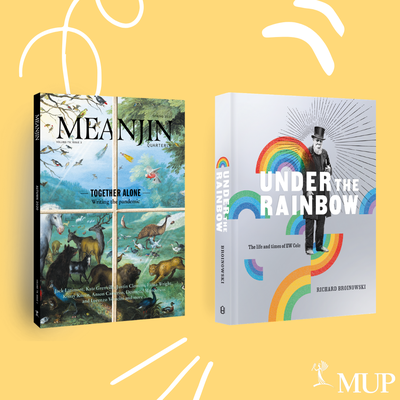 Welcome to spring!
Coming up this September, we look forward to publishing a new biography from the Miegunyah Press and the spring issue of Meanjin.
Richard Broinowski's Under the Rainbow chronicles the life of E.W. Cole, a colourful and much loved figure of 19th century Melbourne, while the latest Meanjin brings us a collection of fine writing from the pandemic.
Read more about the titles below. For the chance to win a free copy, make sure you're registered as an MUP member (sign up here), and send an email to mup-contact@unimelb.edu.au letting us know which new release you would most like to read and why. Entries close Tuesday 8 September.
---
Under the Rainbow by Richard Broinowski
Under the Rainbow is the life story of E.W. Cole, a colourful and much loved figure of 19th century Melbourne. Best remembered for his Funny Picture Books, his sense of the absurd and his marketing genius, his wonderful arcade was the first 'department store' in Melbourne, replete with a live orchestra, an aviary and monkeys alongside books, ornaments, art, curios and tearooms.
But there was more to Cole than his merchandising prowess: he scandalised the clergy with his sacrilegious views about Christianity, campaigned passionately against the White Australia policy, and advocated education for all. Cole's journey from an impoverished sandwich seller on the streets of London to owner of one of the most memorable establishments of early Melbourne is remarkable.
As noted by Chris Saliba in Books + Publishing, 'former diplomat and author Richard Broinowski has written an exhaustive account of Cole and his times, weaving in related contemporary issues of race, religion, economics, international diplomacy and war.'
Richard Broinowski will be in conversation with Readings for a free, online event on 22 September. Visit the Readings website for more information and to make a booking.
---
Meanjin Vol 79 No 3 edited by Jonathan Green
The Spring issue of Meanjin brings us a collection of fine writing in the time of Covid-19. An expansive, lyrical essay from Jack Latimore couples a local response to the Black Lives Matter movement to ideas around gentrification, St Kilda, Sidney Nolan and the life and music of Archie Roach, all of it set against the quiet menace of the pandemic. Other contributors include Kate Grenville, Fiona Wright and Justin Clemens, who all provide their unique perspectives on the pandemic. You can purchase a single copy from the MUP website or subscribe to receive 4 issues for $100.