Special offer – Our Trailblazing Susan Alberti
The Footy Lady is the trailblazing story of a woman who fights constantly for her values and to make change happen.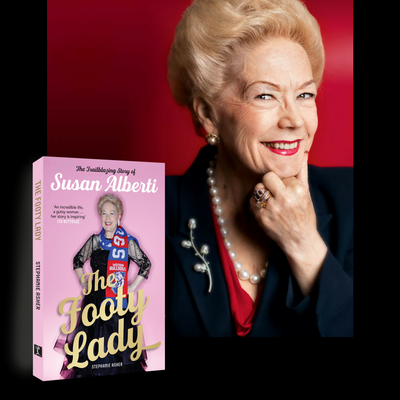 Susan Alberti AC is one of Australia's pre-eminent philanthropists, having donated millions of dollars to medical research and other charitable causes over her successful business career.
When her daughter Danielle was diagnosed with type-1 diabetes Susan Alberti embarked on a mission to find a cure. Not only has she raised millions of dollars for diabetes research but she has given generations of young diabetes sufferers hope that a cure may one day be found. Susan Alberti co-founded the DANSU group with her late husband Angelo 45 years ago, with the pair quickly becoming devoted fundraisers. She founded the "Walk for the Cure" around Albert Park Lake, which to date has raised more than $40 million towards diabetes research.
Victorian of the Year 2018
In 2018 Susan Alberti was awarded Victorian of the Year. She tirelessly does interviews and speaks at community events telling Danielle's story, in doing so keeping her daughter's memory alive. You can read an extract of The Footy Lady to find out more about the work she has done in her daughter's memory.
Sue's willingness to put her own story forward and show her vulnerability is one of her greatest strengths, and the key to unlocking much-needed political support. Danielle was right to encourage her mother to engage in public speaking—delivering speeches and formal presentations is a powerful leadership tool, one that Sue has honed and continues to use to the great advantage of her causes.
A special offer
To celebrate her award and share her story with as many as possible, we're offering The Footy Lady (signed copies too!) to reader at $14.99, down from $29.99!
Use the promo code TRAILBLAZER at checkout and you will be a copy of The Footy Lady – signed by Susan Alberti herself! – for just $14.99.
When her first husband was killed by a truck, Susan took over their construction business, becoming a female pioneer in the building industry. When her daughter was diagnosed with type-1 diabetes she embarked on a mission to find a cure. When her beloved football club the Western Bulldogs was threatened with annihilation she worked as vice-president to bring home the 2016 premiership flag. Confronted with the exclusion of women from AFL, she battled to open the game to all and kept up the fight with money and on-ground support when others were ready to signal defeat.
This offer lasts until Wednesday 1 August.
Or perhaps a pack of trailblazers to get your ambitions skyrocketing...
We've combined two of our bestselling memoirs and biographies into one pack: The Footy Lady and Incorrigible Optimist by Gareth Evans are now available for purchase together for the price of $50.00 (*including free shipping!)
---