Spotlight: Farmers or Hunter-gatherers? The Dark Emu Debate
'Farmers or Hunter-Gatherers? The Dark Emu Debate by anthropologist and linguist Peter Sutton and archaeologist Keryn Walshe is an impressively researched work of scholarship.' Sydney Morning Herald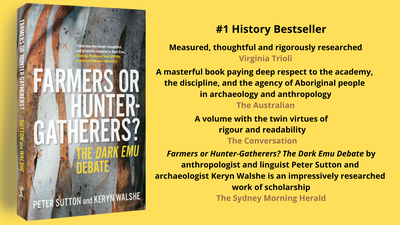 Farmers or Hunter-Gatherers? The Dark Emu Debate, by Peter Sutton and Keryn Walshe was published on 16 June 2021. This book is an authoritative study of pre-colonial Australia that dismantles and reframes popular narratives of First Nations land management and food production. Peter Sutton and Keryn Walshe ask why Australians have been so receptive to the notion that farming represents an advance from hunting and gathering. Drawing on the knowledge of Aboriginal elders, previously not included within this discussion, and decades of anthropological scholarship, Sutton and Walshe provide extensive evidence to support their argument that classical Aboriginal society was a hunter-gatherer society and as sophisticated as the traditional European farming methods.
Farmers or Hunter-gatherers? was announced in an Age and Sydney Morning Herald Good Weekend feature by Stuart Rintoul (syndicated to the Brisbane Times and WA Today) on Saturday 12 June. The book has become the essential discussion of our current moment within Australia. The scholarly basis of this book and the significance of the public discussion that it has engendered have been widely recognised, including within editorials in The Age, The Sydney Morning Herald and The Australian, articles in The Times (UK), Le Monde (France), an episode of Media Watch, ABC radio interviews with Roanna Edwards (Perth), Fran Kelly (RN), Cassie McCullagh (Sydney), and Virginia Trioli, and, not least, reviews across many outlets including The Guardian and The Conversation.
"
This book takes Pascoe's Dark Emu to a higher level of constructive debate, providing a win-win for traditional Aboriginal knowledges and for those who seek to explore them."
Professor Paul Memmott, University of Queensland
Since its release Farmers or Hunter-gatherers? has seen a fourth print run, been the number one bestseller in the History category across the Australian retail market, and has assisted in finding fact in a discussion which is fraught with misinformation.
Despite lockdowns limiting movement throughout Australia, Peter Sutton and Keryn Walshe continue with interviews and events to help promote their findings and arguments. Stay tuned on our social media pages and events listings for the latest information.
You can purchase Farmers or Hunter-gatherers? The Dark Emu Debate at all good book retailers and online at mup.com.au for $34.99