Spotlight: Sunburnt Country by Joëlle Gergis
Bringing together climate science and Australian history, Sunburnt Country tells many stories about how Australia's weather and climate has varied over the last thousand years and is likely to change over the next century.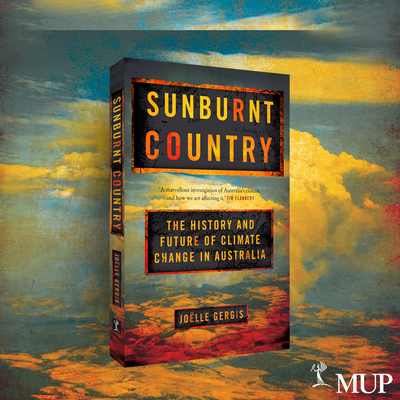 In this month's issue of The Monthly, author and climate scientist Joëlle Gergis draws on a recent study led by the CSIRO and Bureau of Meteorology to warn that 'we may witness planetary collapse far sooner than once thought'. The study finds that based on our current high-emissions trajectory, Australia could warm up to 7°C above pre-industrial levels by the end of the century. As she has been for many years, Dr. Gergis urges Australians to confront the reality of climate catastrophe and the threat that it poses to our planet and our lives.
From 2009-2012, Joëlle Gergis led the Australian Research Council Linkage funded South-Eastern Australian Recent Climate History (SEARCH) project; a landmark initiative spanning the sciences and the humanities to reconstruct the region's climate variability from first European settlement in 1788. At that point, no such climate reconstruction existed for Australia as a whole or for south-eastern Australia, which had the highest concentration of early weather observations and written records from colonists. The project was a tremendous success and was awarded the Eureka Prize for Excellence in Interdisciplinary Scientific Research in 2014.
Joëlle's debut book, Sunburnt Country, arose from that project and pieces together Australia's climate history for the first time. Bringing together science and history, it tells many interwoven stories about how Australia's weather and climate has varied over the last thousand years and is likely to change over the next century, affecting the environment and people, including Indigenous communities, colonial settlers from the First Fleet to Federation, current Australian society and future generations.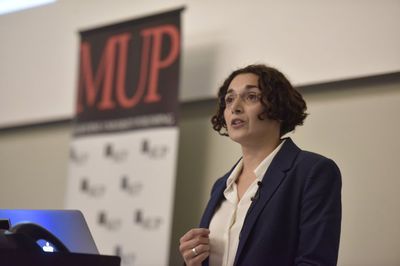 Sunburnt Country has been praised not only for its meticulous research and vivid narrative, but also for its concise and accessible communication of complex scientific ideas. In the Australian Book Review, Lauren Rickards describes it as a 'fascinating, timely, uneven book' that uses 'easy-to-understand snippets of scientific studies'. In the Sydney Morning Herald James Bradley praises Gergis' ability to connect readers with the future by 'unpicking the complexities of our past climate and showing us how they relate to our future'. Sunburnt Country was included in the Australian Geographic list of '7 books Australian climate change scientists recommend you read', with University of Melbourne lecturer Andrew King noting that it is 'written in such a way as to be understandable to all audiences with an interest in the subject but without a scientific background.'
Dr. Gergis' tact and skill when it comes to science communication has made her a frequent media commentator on climate change and the need for urgent action. In 2018, she spoke to Nate Byrne about her research on ABC News Breakfast and later that year delivered an audio lecture with the State Library of Victoria on the long-term history of Australian climate variability and extremes.
Joëlle also wrote and spoke extensively on the Australian bushfire crisis last summer. She appeared on 60 Minutes to provide her perspective on the crisis and highlight Australia's climate vulnerability. In a piece in The Conversation Joëlle dispels the myth that these bushfires were simply a part of natural climate variability, and warns that 'unless there are global reductions in greenhouse gas emissions, temperatures will continue to rise, increasing the risk that catastrophic bushfire conditions become Australia's "new normal"'. In The Guardian, Joëlle describes the bushfires as a reminder that 'no matter how much we want to avoid addressing the problem of climate change, it simply cannot be ignored...it is now part of every Australia's lived experience'.
"
Could it be that the nature of Australian droughts is changing as we continue to warm the planet? Are our droughts getting hotter? It's a question we need to start taking serious before the next heavy rains arrive and wash away our concerns"
Joëlle Gergis, Sunburnt Country
In 2019 Joëlle Gergis was the recipient of the Australian Meteorological and Oceanographic Society (AMOS) Science Outreach Award for her continual efforts to communicate climate science to the public. The judges commended her work towards reaching a more general audience through mainstream media coverage and public lectures and described Sunburnt Country as her 'most outstanding contribution' to engaging the public with Australian climate science.
You can purchase Sunburnt Country at all good book retailers and online at MUP for $34.99.