Spotlight: Where the Water Ends by Zoe Holman
'Holman skillfully weaves together personal testimony, history and astute observation to create a compelling portrait of migration and the human cost of Europe's border policies.' Daniel Trilling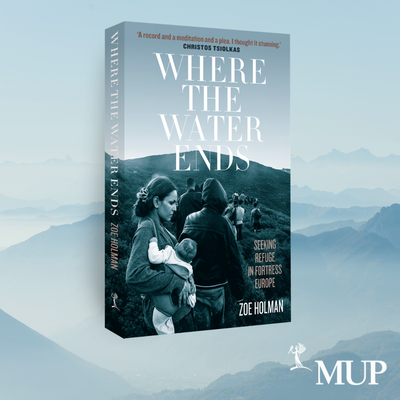 Where the Water Ends: Seeking Refuge in Fortress Europe, an expansive account of the refugee crisis and the people at its heart, was published 2 March. Zoe Holman's unflinching gaze lights up the dark side of immigration policy in Europe by tracing the stories of immigrants and their treatment at the hands of Greek and European Union authorities. Having spent time in Syria and the Middle East, Holman was drawn to the experiences of refugees as well as the activists on the front line, and has since immersed herself in the daily life of the people at the heart of Europe's refugee crisis. Where the Water Ends gives voice to those who have fled their homes, and the daily challenges they have met in hopes of finding sanctuary in Europe.
Where the Water Ends has received praise while provoking discussion about Australia's own treatment of refugees. Virginia Trioli discussed the similarities at length with Zoe Holman on ABC Radio Melbourne, describing Where the Water Ends as 'Astonishingly detailed … a remarkable document.'
ABC Radio National Breakfast with Fran Kelly highlighted Zoe Holman's account of refugee persecution as a worthy signifier for the fifth anniversary of the landmark deal between Turkey and the European Union that halted the movement of refugees and asylum seekers across the continent. Holman also spoke with SBS to reflect on the impact of the EU-Turkey deal, a 'successful experiment of cruelty'. The full interview can be read here.
In Australian Book Review, Tom Bamforth commends the book as 'an astounding achievement', while Mark Thomas in the Canberra Times describes the book as an 'accumulation of personal stories' that 'reflect deep research but also a fierce sense of urgency'. Europe correspondent Hans van Leeuwen at the Australian Financial Review praises the books exploration of 'indifference and even aggression that Europe has offered to those seeking its shores.' Van Leeuwen describes the book as 'A work of portraiture and passion'.
"
′I tell my family not to come here, because it is more dangerous than Syria. In Syria, someone will kill you in five minutes with a bullet; but here, they will kill you over months and years … smile by smile.' "
Syrian refugee, Ibrahim, Where the Water Ends
Zoe Holman has stood up to the podium on behalf of voiceless refugees suffering a plight which surfaces and drowns in the sea of modern-day activism. Attempting to educate the public and ignite change, Zoe will be in conversation with Maria Tumarkin at Readings on 20 April, and at the Eltham Bookshop conversing with Michelle Foster on 28 April.
Sydney Writers' Festival is returning this year and Zoe Holman will speak on a panel about the ongoing refugee crisis, here and abroad, and why we must not allow the conversation to disappear. Hosted by The Guardian's Ben Doherty, the panel will feature Behrouz Boochani (No Friend But the Mountains: Writing from Manus Prison), Adama Kamara, and Zaki Haidari. 'Displaced' will take place on 29 April.
You can purchase Where the Water Ends: Seeking Refuge in Fortress Europe at all good book retailers and online at MUP for $29.99