Spotlight–August in Kabul: America's Last Days in Afghanistan by Andrew Quilty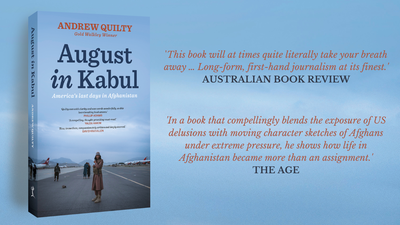 August in Kabul is the story of how America's longest mission came to an abrupt and humiliating end, told through the eyes of Afghans whose lives have been turned upside down: a young woman who harbours dreams of a university education; a presidential staffer who works desperately to hold things together as the government collapses around him; a prisoner in the notorious Bagram Prison who suddenly finds himself free when prison guards abandon their post. Andrew Quilty was one of a handful of Western journalists who stayed in Kabul as the city fell. This is his first-hand account of those dramatic final days.
Sarah Ferguson conducted a stirring interview with Quilty on ABC's 7.30, guiding viewers through Quilty's career and life in Kabul through his images. You can view the interview via this link.
A substantial feature in Nine's Good Weekend followed, tracing the trajectory of Quilty's career in photojournalism and the reasons he returned to Kabul while the Taliban neared the city's gates.
"
[August in Kabul] Chronicles with claustrophobic intensity the war's final days, from the insurgents' unstoppable advance to the collapse of the Afghan government and the anarchic evacuation, all of which Quilty witnessed, sometimes, quite literally, at point-blank range. August in Kabul evokes a stricken city."
Good Weekend
August in Kabul received an enormous response from media. VICE asked Quilty about the moral conflict of photographing his subjects. And on ABC RN Late Night Live, Phillip Adams discussed with him his experiences during the fall of Kabul, and the locals with whom he fostered connections, whose experiences he was compelled to record in writing.
An intimate interview with ABC Conversations with Richard Fidler charted Quilty's life and career, exploring the beauty behind the conflict of Afghanistan and what drew him to fall in love with a country which many only see as a conflict zone. You can also hear Quilty's interviews with 3RRR's The Grapevine, Good Weekend Talks and Wild with Sarah Wilson, which Wilson described as 'possibly the most intimate pod chat so far'.
Quilty appeared live on ABC's Q+A alongside an impressive panel of guests for a special Melbourne Writers Festival program. You can watch the entire episode here.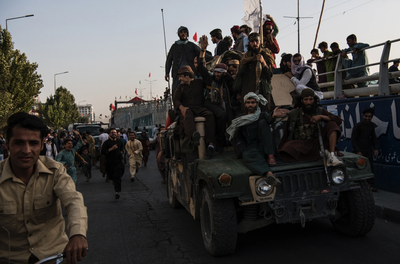 August in Kabul has received praise in reviews since publication in outlets including The Australian, The Saturday Paper and the Nine papers. Australian Book Review wrote:
"
This book will at times quite literally take your breath away. A deeply reported account of the fall of Afghanistan's capital, August in Kabul tells the harrowing stories of those who escaped and those who were left behind in the maelstrom of those two weeks between the arrival of the Taliban on 15 August 2021 and the final US flight to depart – at one minute to midnight on 30 August. Compelling, vivid, and distressing all at once, it is a damning indictment of the Taliban's wanton cruelty and of the domestic and foreign policy failures that allowed them to return … This is a heartfelt account of one of the greatest tragedies of our era. Long-form, first-hand journalism at its finest."
Australian Book Review
We are extremely grateful for the enthusiastic response we received from booksellers and writers festivals, which culminated in an extensive tour with events in nearly every major city in Australia. You can now watch Quilty's affecting TEDxSydney talk online here.
Keep up to date with forthcoming events via our events page and follow us on social media across Twitter, Instagram, Facebook and LinkedIn for all future news and events.
You can purchase August in Kabul: America's Last Days in Afghanistan at all good book retailers and online at mup.com.au for $34.99