Q & A with Rebekah Mannering – Author of Surviving Your Split
Behind the scenes with Rebekah Mannering – one half of the duo behind Surviving Your Split.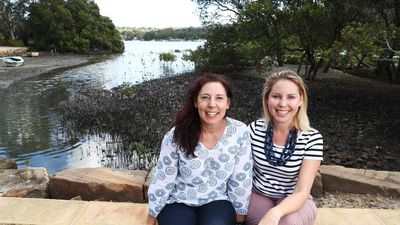 Around 94,000 Australians get divorced each year in Australia — add in de facto separations and the number of relationship breakdowns is even greater.
Of all major life events that mess you around, divorce comes in at number two, just behind the death of a spouse. It's a scary, confusing time. But you will get through this. Authors and sisters Rebekah and Lucy Mannering did.
Rebekah separated from her first husband four months before Lucy separated from hers. She was was kind enough to answer a few of our questions about how she wrote the book with her sister, the difficulties of separation and what she did to 'thrive' after her divorce.
Q–Why did you write Surviving Your Split?
We wrote it primarily because we saw a real need in the market for it. There was nothing around that helped people through the maze that is family law and there was an alarming amount of disinformation out there and some of it is downright dangerous!
Q–What was the hardest part of writing Surviving Your Split?
Probably confronting my own behaviour, especially around communicating with my ex.
Q–Both of your relationships came to an end around the same time. Being sisters, Rebekah, was it comforting to be able to offer advice and solace to Lucy?
It was really comforting to be able to support each other through it and to be able to "vent" to each other rather than to our respective exes. Sisters can often be the only one who can tell you when you are being foolish!
Q–You offer sage advice on surviving your first few days after the separation, difficult especially if you're a parents of young kids. What pointers would you give to parents unsure of what they should tell their kids?
Definitely take your time to do this and try to be kind to yourself. When it comes to telling the kids, each child is different so no one approach will be the right approach. The most important thing to do is emphasise how much the children are loved and safe, and to remember that their whole little world is changing, so they are probably going to act out.
Q–How have you worked to 'thrive' in the period after your separation?
I ran during year 11 and 12 at school to give myself some thinking space, so after my split I filled the suddenly empty time with running and study. I met a wonderful partner and also rediscovered a real love for running. I found an amazing community at Parkrun and online with Running Mums Australia. The friends I have made at Parkrun remain some of my closest friends and our "girlgang" has been a huge source of joy and inspiration, especially as we take on marathons and triathlons together.
---