Watch Sam Dastyari's official book trailer
The Labor Senator has One Halal of a Story to tell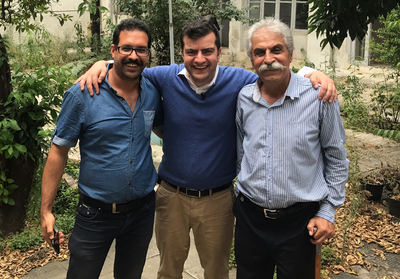 Labor Senator Sam Dastyari's acclaimed and revealing memoir One Halal of a Story is out now.
The book touches on a wide array of topics including Sam's childhood in Iran, his family's escape to Australia, the failures of NSW Labor, drug use in federal parliament, donations reform and – of course – Sam's run-ins with Pauline Hanson.
It's as surprising and insightful as it is moving and unorthodox. Chief among the revelations is this one – the senator can write.
For immediate evidence of this, check out the stunning essay that Sam has written for The Monthly following his journey back to Iran for a family wedding.
He writes with power and poise about visiting Iran and holding the hand of his cousin Ali, with whom he spent his early childhood (that's Ali in the above photograph with Sam and his uncle).
In the funny and poignant book trailer, Sam talks about his big collection of political memoirs and how he wrote his book like a literary Halal Snack Pack.
The book also has halal certification, printed on the book's inside cover, as demonstrated below.
Sam is doing a series of book events over the coming few weeks.
Next week he'll be in conversation with Craig Reucassel at Gleebooks in Sydney and in conversation with Gillian Triggs in Camperdown; and Sam will be appearing at the Melbourne Writers Festival on September 2nd. Check out the details of Sam's full book tour here.